What is EDI2XML Managed Services?
EDI2XML Managed Services is our popular "fully managed EDI service", including translation and communication service offering to businesses of all sizes, from various industries. All conversions of EDI files are done on our end, leaving customers with no on-site installation of software or hardware and an EDI project that is on time and within budget.
Process Flow
Our EDI2XML Team will be in charge of going through the EDI integration steps: starting from the planning of the EDI project, to the design of the customer's requested file format (XML, TXT, CSV), and to the testing and certification with the trading partner. No setup of any kind is done on our customer's premises.
We receive EDI files from their trading partner, on our customer's behalf, we convert them and then send directly to our customer. We drop off and pick up all EDI documents to and from their Trading Partners' servers. Our customers are alerted of these transactions via email confirmation notifications.
Features
We offer a "fully managed" EDI Solution that includes following features:
– Different dynamic monthly service packages, to satisfy all data volume and number of EDI transactions per month
– Standard XML format for all incoming and outgoing EDI documents
– XML schema (.xsd)
– Any custom file format is available upon request
– EDI2XML is deployed on our private Cloud
– We provide customers with an FTP site so we can receive their outgoing files in XML format, ready to be converted to EDI format
– We provide customers with an FTP site so they can pick up any incoming EDI documents, recently converted to their requested format
How it works
From A to Z, a customer's EDI requirements are handled by our team of EDI experts. We take care of:
– EDI mapping
– Trading Partner configuration
– Standards maintenance
– XML/CSV/TXT translation
– Send & receive EDI documents, to and from Trading Partners or to and from the customer
– Drop off & pick up XML/CSV/TXT files to and from the customer
– Integration with ERP application with certified connectors (if and when required option)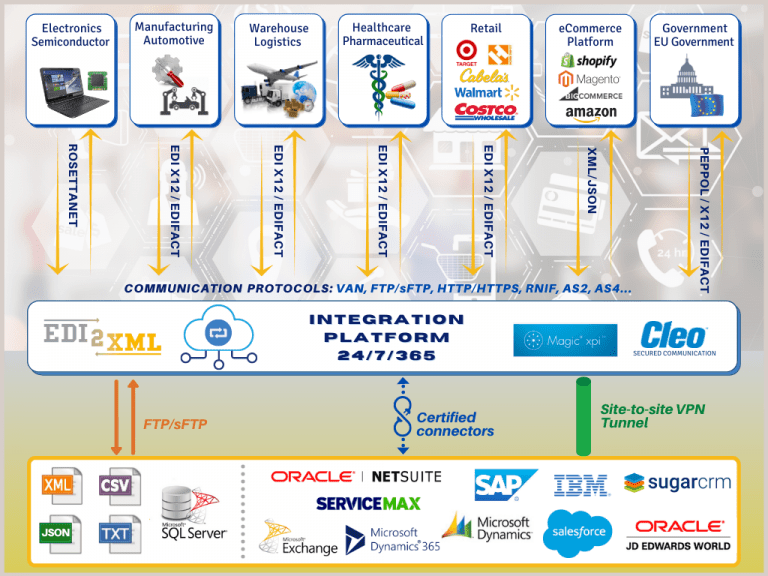 Technical Details
A setup phase is required for all new Trading Partner and/or EDI document implementations. This phase includes the project analysis, setup of Trading Partner accounts, configuring Partner specs and platform, defining the transferring file structures, building and setting up all connectivity required, data testing, and more. Please be aware, every setup depends on the collaboration of the Trading Partner(s) and the customer.
Pricing
The monthly EDI2XML Service & Mailbox fee is based on pre-packaged pricing packages per month, that grow (and shrink) dynamically based on the volume of data processed during a specific month.
Request our EDI2XML Translation Service Pricing Package here for more information.
---