Shopify Integration with ERP/CRM system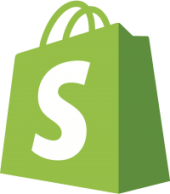 More and more, companies are managing and running different eCommerce sites, in addition to their ERP (Enterprise Resource Planning) or CRM (Customer Relationship Management) software system. This fact is adding a huge load of efforts and inefficiencies for those who do not have an integrated platform: staff need to maintain their data in 2 different systems simultaneously: in the ERP and in the admin panel of the e-commerce website.
Therefore, to automate online business and optimize workflows, a real-time integration of ERP and the e-commerce site should be implemented. Such integration will allow the automatic exchange of information about stock of goods, orders, customers, and other datasets.
ERP Integration with Online store: Advantages
Several advantages a company will benefit from, by implementing a real-time integration between eCommerce store and their ERP/CRM. Some of those advantages:
1. Savings on redundant staff time.
2. Reduce human errors.
3. Improve the quality of information processed.
4. Increased order processing speed.
5. Information always up to date in both systems.
Integrate e-Commerce with Leading ERP Systems
EDI2XML offers robust, powerful and a fully managed integration solution between your e-commerce store and all the leading business systems.
Following is a list of the most commonly used ERP systems to integrate to Shopify: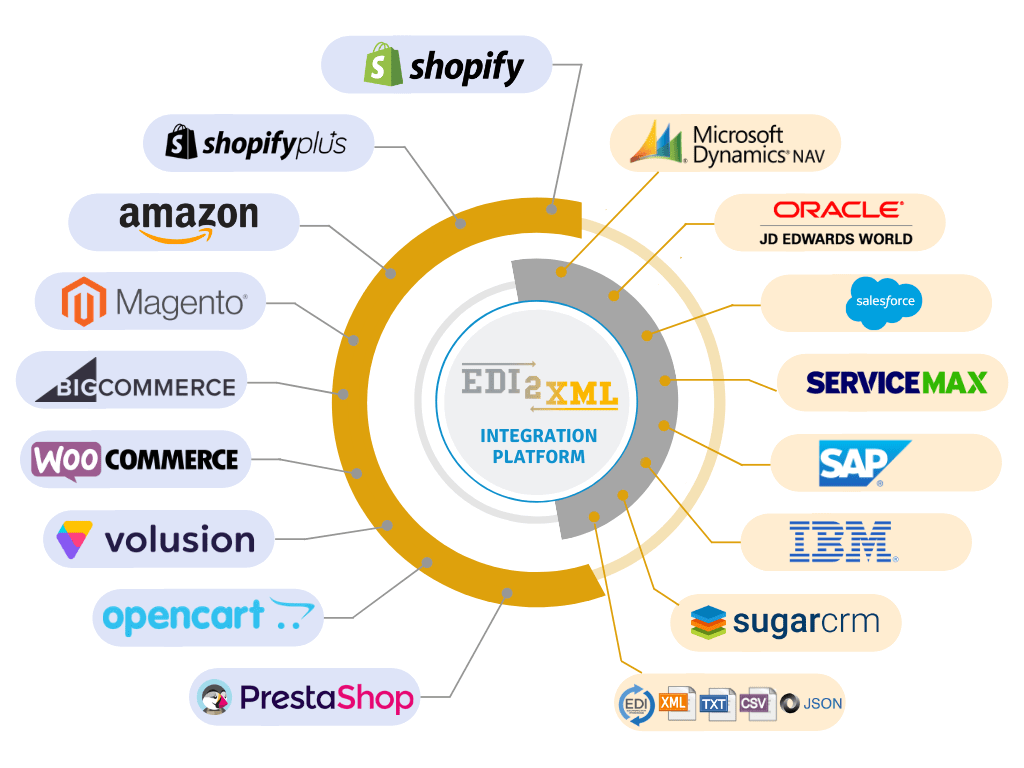 We use advanced integration technologies that provide:
Two-way exchange "Shopify-ERP", "ERP-Shopify".
Secured bi-directional data transfer.
Automatic exchange processing.
Very stable solution.
Flexibility and scalability (the ability to expand functionality).
Work with a large array of data.
Various connection: eCommerce, EDI, CRM, and other business and accounting systems.
How does Fully managed Shopify Integration work?
We at EDI2XML eliminate the need for manual data entry using Magic xpi Integration Platform, we automate the most important business processes, ensuring data exchange between Shopify/Shopify Plus and leading ERP and accounting systems.
⇒ The EDI2XML integration platform Magic xpi connects your ERP/business systems with your online store.
⇒ Orders placed on your Shopify store are sent automatically to your business system.
⇒ As you fulfill online orders, Magic xpi extracts shipment data from your ERP and sends it directly to your Shopify store thus your clients always have the latest order status.
⇒ Automatically update inventory information in your online store as frequently as you wish.
Contact Integration Experts
We can quickly and efficiently set up data exchange with ERP (customer info, sales orders, order status, inventory quantity data…) at any stage of the development of your online store:
even before the launch of the online store;
when the e-commerce website is already running;
expand the possibilities of the existing integration.
To order the ERP synchronization service with the online store, contact us.
Let's Get Started
Call (450) 681-3009 or use the form below to contact our integration expert!