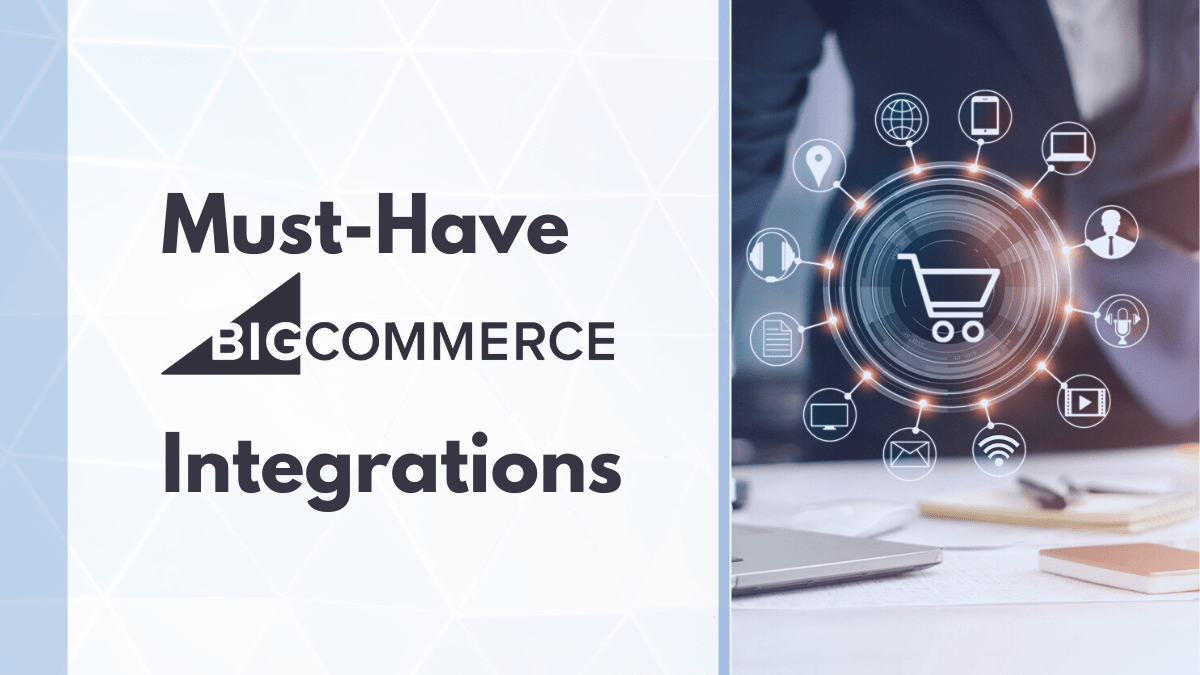 (Last Updated On: June 15, 2023)
---
Many companies, especially during the COVID-19 times, have begun to develop their online business in a more active and aggressive way. Increasingly, companies use Multichannel E-commerce practice, that is, selling through multiple marketplaces such as Amazon, eBay, Facebook, Instagram, as well as use third-party eCommerce platforms like BigCommerce, Shopify, Magento, Volusion or WooCommerce.
Some people think that e-commerce is the default, fully automated business model. However, this is not at all true.
Of course, e-commerce can be fully automated, but for that, you will need to do some integration work.
In this article, let us take a closer look at the popular BigCommerce marketplace and its integration with various business systems.
What is BigCommerce
BigCommerce is a SaaS (Software as a Service) or cloud-based ecommerce platform for building an online store. It is suitable for trading both physical and digital goods and creating large and high-quality online stores. BigCommerce is a powerful, functionally mature ecommerce platform that takes into account everything that at least somehow affects sales efficiency. Integration can further diversify and expand capabilities.
BigCommerce ERP/CRM Integration
Integration of a BigCommerce account with an enterprise Accounting, ERP, or CRM system is one of the most basic integration requests. The main integrations are:
BigCommerce MS Dynamics integration
BigCommerce SAP integration
BigCommerce Salesforce integration
BigCommerce Sage 100, 300 & 500 integration
BigCommerce QuickBooks integration
BigCommerce HubSpot integration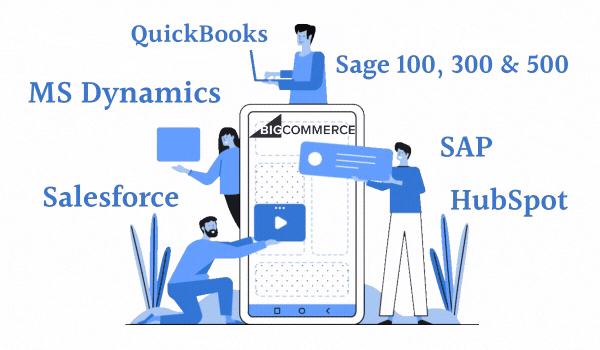 For businesses that sell products through an online store, integration is an absolute must, regardless of whether they use e-commerce as an additional or primary way of making a profit.
Here are some of the benefits of integrating an online store with ERP and CRM systems:
Reduces the time and cost of administration and synchronization of the online store database and ERP.
Eliminates manual data entry and associated human errors
Improves the efficiency of customer service
Ensures the accuracy of product data. Unloading goods from ERP to the website of the online store in exact accordance with the specified parameters.
Receive orders from the online store in ERP. Automatic update of order statuses from the online store to the system.
Automatic upload of customer information from the online store to ERP and CRM. Communication with customers of the online store through CRM.
BigCommerce and EDI Integration
Since EDI remains almost the only way to transfer business information between trading partners, the integration of BigCommerce with EDI is in high demand. For integration in e-commerce, these two most common standards are usually used:
UN/EDIFACT – United Nations/Electronic Data Interchange for Administration, Commerce and Transport
ANSI ASC X12 (or EDI X12) – American National Standards Institute Accredited Standards Committee X12
EDI in e-commerce is used mostly in the supplier-seller relationship and in the dropshipping model. Therefore, EDI is the link between business partners and provides up-to-date information on stock levels, orders, shipments, and more. The most common EDI BigCommerce integration are:
EDI 850 Purchase Order from the BigCommerce account owner (hereinafter BigCommerce) to the business partner (manufacturer /supplier / dropshipping partner).
EDI 855 PO Acknowledgment from business partner to BigCommerce. As soon as the business partner receives the PO (850) from the BigCommerce, he will issue a PO Acknowledgment to confirm receiving of the PO and its items.
EDI 856 Advanced Ship Notice (ASN) from business Partner to BigCommerce. As soon as the business partner ships the merchandise to the consumer, he will issue an advance shipping notice. EDI 856 contains information about the consumer to whom merchandise was shipped, along with the tracking number of the boxes shipped as proof of shipping.
EDI 810 Invoice from business partner to BigCommerce. As soon as the business partner ships the merchandise to the consumer, he will issue an invoice for his products and services, to pay.
EDI 940 Warehouse Shipping Order from BigCommerce to the business partner. EDI 940 is used when the online shop owner outsources warehouse functionalities such as shipping and fulfillment operations to a 3PL provider. Warehouse Shipping Order is used to notify the 3PL supplier to ship the item to the buyer.
EDI 846 Inventory Inquiry/Advice from business Partner to BigCommerce. BigCommerce inventory management – this is the most common issues faced by online store owners. The use of EDI 846 is one of the ways to quickly and reliably resolve inventory management issues. Inventory Inquiry/Advice is used to notify the seller about stock availability. Depending on business agreements, EDI 846 can be sent 2-3 times a week, up to several times a day.
BigCommerce Dropshipping Integration
There is a very common situation when the BigCommerce store owner wants to dropship certain products and needs real-time data of stock levels from the manufacturer.
BigCommerce does not have a built-in native solution that would automatically sync inventory between a merchant store and a third-party supplier.
To do this, the supplier will need to connect to the seller's store via the BigCommerce API. however, for a more robust solution, hire a third-party integration service provider to build fast, high-quality integrations.
---
For more information about Drop-Ship, read our blog: 4 Challenges of EDI and Drop-Ship in eCommerce
---
BigCommerce integration with Amazon
As stated at the beginning of this article, many companies use different platforms to grow their e-commerce business. Of course, many companies use one of the most popular marketplaces – Amazon. However, they faced to the most common issues in multichannel sales – logistics. You need to track orders, availability of goods, and stock levels at various locations.
Doing electronic business in unconnected systems is not effective and a serious waste of your time, as well as a high risk of errors.
Therefore, owners of BigCommerce store connect their BigCommerce account to Amazon Seller Central account to automatically sync Inventory stock levels between BigCommerce store and Amazon.
Reliable BigCommerce integration from the leading B2B integration provider
Our company has done many different e-commerce integrations. We help our clients to manage their e-business efficiently and find the best integration solutions.
Our solution enables companies to reduce operational delays and costly mistakes. As well as to increase work efficiency and improve the quality of customer service.
Contact us today for your free consultation.