(Last Updated On: April 30, 2021)
What is EDI2XML web Service?
EDI2XML Web Service, is an HTTP service running over the internet, on EDI2XML own platform that is capable of receiving HTTP requests to translate EDI messages to XML, and XML messages (based on EDI2XML's proprietary format) to EDI.
Our EDI Web Service gives developers the power they need to do EDI easily. EDI Web Service solution solves developer's problem because we have an expertise in an EDI technology that is difficult for the developers to replicate. This solution enables to increase efficiency, and reduce cost of EDI implementation.
Read more about EDI Web Service here
Advantages of using EDI2XML HTTP service:
Get started with less than an hour
No contract: pay as you go
Very simple and dynamic pricing scheme
Availability and reliability
Based on proven technology in the field for over 18 years now
Outstanding technical support
Interested in our EDI2XML Web Service? Take the next step to request our EDI Web Service Price List. This price list also includes an FAQ section for information about our EDI Web Service.
Looking for an EDI Web Service to translate EDI to XML, and XML to EDI? Get started with a 15- days trial of our EDI2XML HTTP Service, and start integrating EDI into your projects!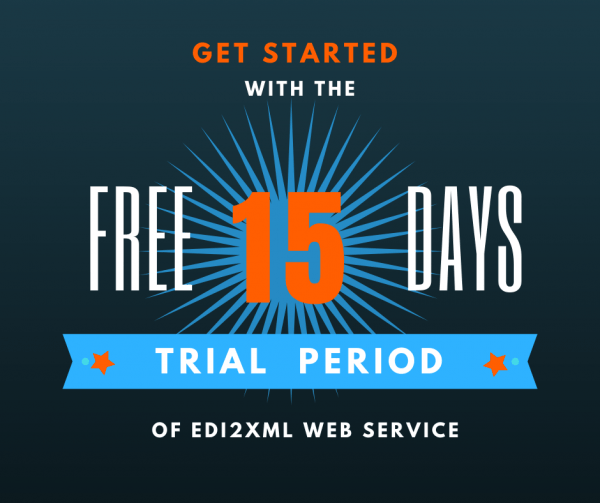 ---
Related Posts:
API Web Service for EDI X12 exchange – Discover the advantages
SOAP or REST Web Services: what you should use for EDI implementation?
Seamless EDI implementation through Web Services