Posted By: Tatyana Vandich
In: Blog, Tags: 4th industrial revolution, Digital transformation, FactoryEye, IIoT, Industrial Internet of Things, Industry 4.0, Internet of Things, IoT, Smart factory, What is Industry 4.0
0 Comments
(Last Updated On: June 16, 2023)
---
This post was updated to reflect current trends and information.

Industry 4.0 is the leading trend of the fourth industrial revolution taking place before our eyes.
The main focus of Industry 4.0 is to fully automate production facilities where all processes are controlled in real-time, while considering the ever-changing external conditions.
In Industry 4.0 an important role is played by Internet-based technologies that provide communication between personnel and machines.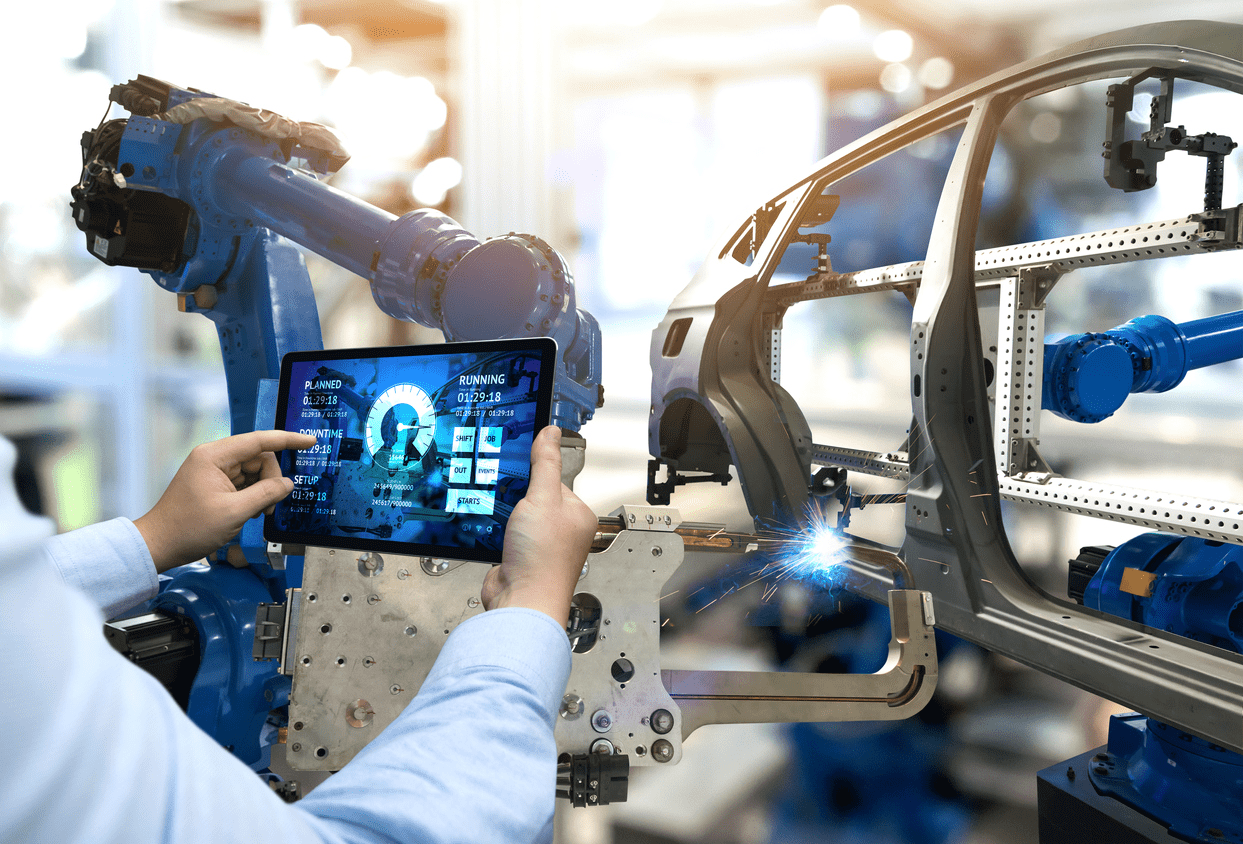 "Industry 4.0" program was discussed for the first time, in 2011 at an industrial exhibition in Hanover, where the German government set a goal to expand the use of information technology in manufacturing. A highly professional team made up of business and government representatives worked on the creation of a program to modernize the country's industrial enterprises in this direction. The objective of the program is to preserve and increase the competitive advantages of the country's enterprises.
Active interest over the past years in Industry 4.0 for both government and business in Germany is easily explained.
Back in 2015, Roland Berger, a global strategy consulting firm in its Digital Industry Transformation report, predicted that the EU economy could lose 605 billion euros in the coming years if it ignores the development of Industry 4.0. But if they are fulfilled, the potential profit can reach 1.25 trillion euros.
Not surprisingly, other countries follow the example of Germany, for example, in Japan, the "Japan Institute for Promotion of Digital Economy and Community (JIPDEC)" was created.
In 2014 the largest US companies – AT&T, Cisco, GE, IBM, and Intel – created an open non-profit group – the Industrial Internet Consortium (IIC). The main objective of the Consortium is the creation of an ecosystem of companies, research centers and government agencies favorable for the implementation of the industrial Internet.
Internet of Things (IoT) – The key Technology of Industry 4.0
A key technology in Industry 4.0 is the Internet of Things (IoT). The Internet of things is a network of physical objects that have built-in technologies that allow them to interact with the external environment, transmit information about their condition and receive data from the outside.
In other words, in this technology, the Internet is used to exchange information not only between people but also between all kinds of "things", i.e. machines, devices, sensors, etc. On one hand, objects equipped with sensors can exchange data and process them without human intervention. On the other hand, a person can actively participate in this process.
What is the Industrial Internet of Things (IIoT)?
An integral part of the Internet of Things and its main driving force at this stage of technology development is the Industrial Internet of Things (IIoT).
The IIoT opens the direct way to the creation of fully automated industries or as we call it now– the Smart Factory.
In the IIoT approach, the key components of an equipment are: sensors, actuators, and controllers; The collected data is processed and sent to the appropriate services of the company, which allows staff to quickly make informed and prudent decisions. But the goal of IIoT is to achieve a level of automation of the enterprise, in which machines dispersed in multiple sites, work without the participation of people. The role of personnel, in this case, comes down to monitoring the operation of the machines and responding only to emergencies.
Challenges faced by industrial enterprises to adopt Industry 4.0
As discussed above, Industry 4.0 is about connecting people with machines, devices, and data to allow humans to act upon data in a proactive manner, to improve decision making and optimize business processes.
Here are the main challenges that many manufacturers face when considering new Industry 4.0 business models:
Budget – expensive solutions that often involve investing in (expensive) new systems and processes.
Long implementations – management time burden and reduced efficiencies before an eventual improvement.
Finding the right people with the appropriate level of expertise
Not knowing where or how to start
Steps towards Industry 4.0
To efficiently adopt a new technology 4.0 and transform your production in a smart factory you should follow the following steps:
Connect and integrate
To achieve operational excellence and ensure your competitive advantage, you need real-time connectivity of all company departments into a unique business system. Automate business processes and orchestrate workflows to synchronize and streamline data from multiple sources.
Collect and Manage
You must be able to collect and manage all your company's critical information about operations, order fulfillment, sales, marketing, accounting, etc. in one place with no data gaps.
Visualize and Analyze
Stay on top of errors and inefficiencies by receiving alerts before it affects your business. This can be done with FactoryEye, a smart solution designed specifically for manufacturers. FactoryEye visually displays your processes, demonstrates all the results, and helps you better understand data, trends, and forecasts in real-time, allowing you to act efficiently.
Identify and Optimize
Proactively identify process intervention points, enabling live, informed decision-making to optimize business results.
Digital Transformation in Manufacturing with FactoryEye
FactoryEye is a highly productive, flexible, low-code and hybrid platform that seamlessly integrates between manufacturer's legacy core IT systems, cloud systems, and factory machines, collecting and analyzing large data from multiple repositories.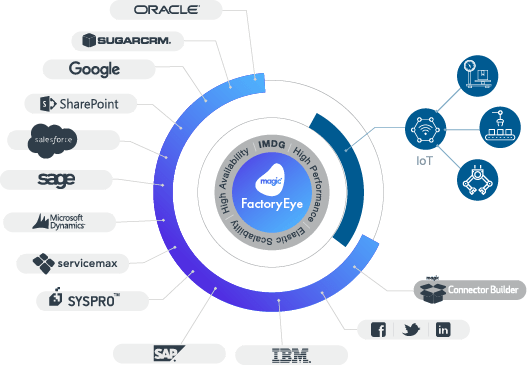 FactoryEye provides production managers and operators (using IoT technology) real-time data about "what's goes on" on the shop floor. It does that by presenting the information on desktops, tablets or smartphones, enabling a fast reaction to irregularities. The effect is an increase in the OEE (Overall Equipment Effectiveness), thus a reduction in production costs. FactoryEye is fully integrated into the customer's ERP enabling the automatic transfer of work orders to the shop floor and delivering real-time data from the shop floor to the ERP system for further usage.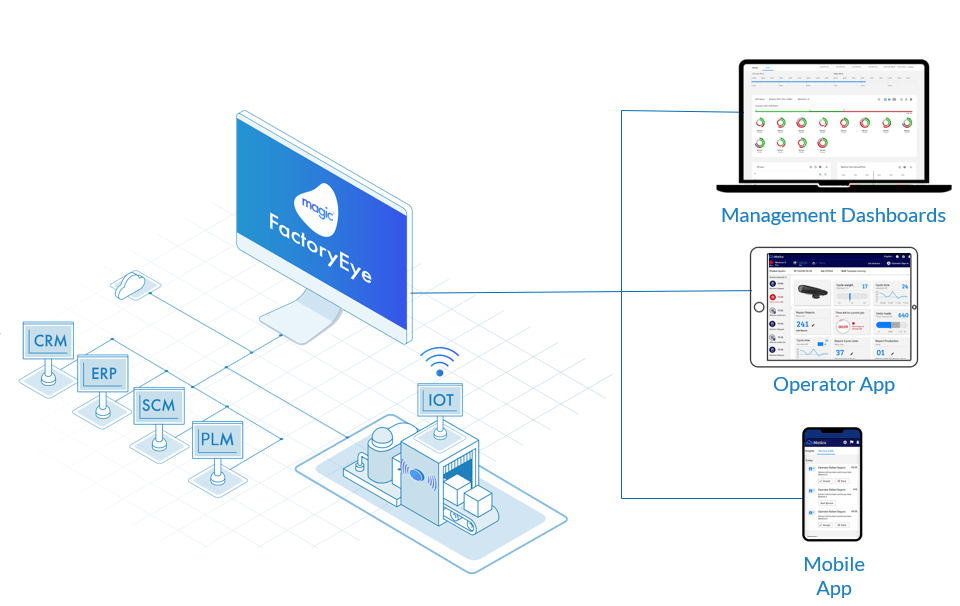 This smart solution, made for manufacturers, lets you focus on improving your business. Real-time visualization of all production data and predictive alerts that prevent problems before they occur.
Industry 4.0 – Call on the experts
We implement FactoryEye according to priorities identified together with our client. Our holistic approach draws on best practices and a strategic alliance with Magic Software, a global company that empowers manufacturers with smarter technology to make the smooth transition to Industry 4.0 and maximize business opportunities.
If you want to learn more about how FactoryEye can help save on costs and improve your factory's efficiency, contact us today