Posted By: Tatyana Vandich
In: Blog, EDI, Magic xpi, Tags: Digital transformation, ERP, Integration, integration platform, JD Edwards EnterpriseOne, JD Edwards World, Magic xpi, Oracle JD Edwards
0 Comments
(Last Updated On: April 28, 2021)
---
This post was updated to reflect current trends and information.
---
Oracle's quality and reputation in the industry has made Oracle one of the most popular software vendor on the market. According to Statista, it is one of the largest companies in the world in terms of market value and one of the world's leading providers of enterprise resource planning (ERP) software.
What is Oracle JD Edwards?
JD Edwards EnterpriseOne is an integrated applications suite of comprehensive enterprise resource planning software (ERP) that that is developed and sold by Oracle. EnterpriseOne is the first ERP solution to run all applications on Apple iPad. JD Edwards EnterpriseOne also delivers mobile applications.
JD Edwards World is a unique platform solution that allows better collaboration both within and outside your business network. The Oracle JD Edwards ERP system is a popular solution for managing mid-size and large enterprises.
---
To learn more about the JDE Edwards world and EDI integration, you can read this article "What you need to know about EDI integration in JD Edwards World"
---
Integration is the engine behind "Digital Transformation"
During the past few years, due to the important role of integration in information technology, there has been a modernization of information technology, especially in Big Data and Analytics, Cloud Computing, and mobile IT.
Businesses using Oracle JD Edwards are not exceptions. Companies often need to integrate other applications and systems such as EDI System, CRM, SCM, PLM, and eCommerce.
EDI2XML offers a complete integrated solution on both JD Edwards EnterpriseOne and JD Edwards World, using certified connectors from Oracle themselves. Thanks to the Magic xpi Integration Platform and the partnership of Magic Software with Oracle for the connectors certification!
When Integration with JDE is essential?
There are several scenarios when a company would consider automation and integration, and it is beneficial:
a) Processes improvement
Companies are in a constant search for better ways to do business; integrating the company's systems and process will benefit the company with the following:
Improvement of employees' efficiency and their performance
 Reduction in human errors
Increase in the speed of data collection
Improvement of the quality of information within a company's system
Obviously, at the end of the day, all of the above will have a positive impact on the company's bottom line.
b) External trends
The development and the business need to accommodate "External trends" is another driving factor for integration:
Cloud-based systems and technology
Mobile applications
IoT (Internet of Things) projects
c) Answering to Clients' or suppliers' requirements and expectations
Often companies dealing with several important clients, cannot reject a request from a client to exchange information and integrate data electronically.
d) Companies merger, acquisition, and growth
It has been very common in today's business reality, to see lots of mergers and acquisitions of companies. This kind of business operation will create an urgent need to consolidate data and perhaps centralize data from different sources.
The same need can arise due to the company's growth and expansion, where data needs to be centralized, activities need to be orchestrated at the system level.
e) Heterogeneous systems
Another typical scenario where integration becomes crucial for a company is when it is overgrown with various systems and applications that are not interconnected. (i.e. CRM, ERP, e-Comm, PLM, WMS, etc.)
Magic xpi Integration Platform operates as middleware to allow data to be shared seamlessly between all systems of a company such as eCommerce, CRM, ERP, including backend financial and manufacturing systems in order to help companies in their digital transformation journey.
Your Digital Transformation Partner
Magic xpi Integration Platform is a code-free, enterprise-grade integration, business process automation, and data synchronization solutions.
Magic xpi for JDE extends the capabilities and usage of Oracle's JD Edwards EnterpriseOne and JD Edwards World ERP systems, integrating them with your company's whole range of business processes.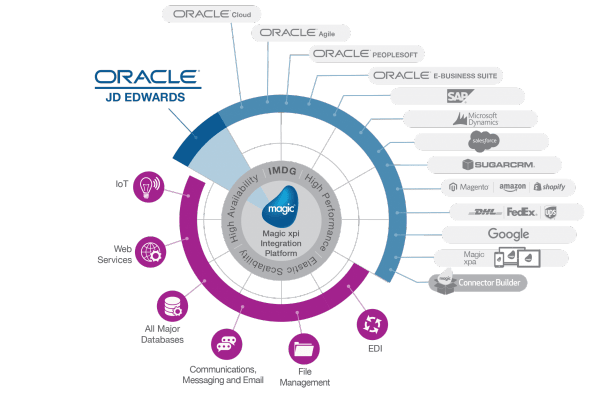 Integration with Oracle JD Edwards
Magic xpi unites the disparate components of your business in different systems and applications, allowing you to better manage financial flows, employees, products, and information in your company.
Magic xpi has a code-free visual design studio, with more than 50 adapters, wizards, services, and methods, that enable to create and orchestrate business processes and integrate natively with JD Edwards, using its Oracle certified connectors.
Magic xpi features
JD Edwards EnterpriseOne and JD Edwards World connectors of Magic xpi, let you extend the value of your ERP by connecting data and business processes across CRM and other Business Systems.
Below are some of the main features of Magic xpi:
Out-of-the-box certified Oracle JDE adaptor
A wide library of pre-built components
Drag-and-drop functionality for easy configuration
Visual Data Mapper transforms information, regardless of the format
Step-by-step wizards simplify complex integration
Intuitive graphical user interface
Online monitoring capabilities
 Oracle JD Edwards Connector Capabilities
Discover all the "native" Oracle business objects automatically
Handles exceptions and errors, reliably and seamlessly
Integrates financial data in real-time, near real-time, and at optimal intervals
Integrates non-JDE applications with your General Ledger
Integrates with new and existing e-commerce websites
Integrates order tracking and logistics management over the Web
Integrates CRM and sales force management
Handles service calls and tracks orders over the Web
Runs natively on IBM I systems
Consolidates your charts of accounts with other systems and companies
Participating in Digital Transformation
If you don't have the expertise in-house to lead a JD Edwards integration, then talk to us. We have been providing integration and expert consulting for Oracle including JD Edwards EnterpriseOne and JD Edwards World.
We understand complex integration challenges – this is what we built our business on!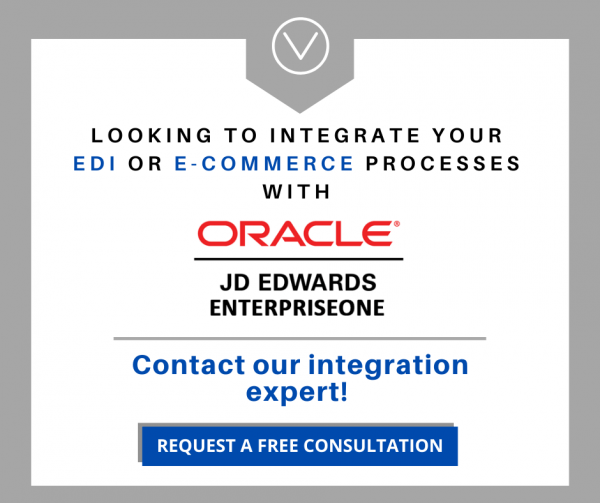 ---
RELATED POSTS:
The Definitive Checklist For Oracle JDE and EDI Integration Projects
What you need to know about EDI integration in JD Edwards World