(Last Updated On: April 27, 2023)
---
What is Amazon?
Amazon is the largest and most successful online marketplace in the world, because they deliver the best customer service and create the best customer experience.
There are two options for a company to sell its products online on Amazon marketplace:
Amazon Vendor Central
Amazon Seller Central
What is Amazon Vendor Central?
When you register your company as a vendor, and once your company is approved, Amazon becomes a regular distributor of your company's products. Amazon buys and stores your company's merchandise, handles pricing, and arranges shipping, returns, and full customer service. Basically, you become a supplier for Amazon, while Amazon buys your company's products and pays you.
Learn more here about Amazon Vendor Central or Amazon Seller Central
What is Amazon Seller Central?
It means you or your company, can register as an independent seller on Amazon marketplace. You pay a monthly fixed fee, and a percent of your sales on Amazon, in return of the use of the platform. There are two types of accounts: either "Individual" or "Professional" Seller account. The account owner is responsible for the setup, ongoing maintenance, and integration of their Amazon Seller account.
Seller Central account is the most popular choice for companies of different sizes, but at the same time, it causes the most challenges to store owners, especially when it comes to integration of the seller account with other business systems.
Things to know: According Amazon Seller Central guide, you may only have one Seller Central account for each region you sell in unless you have a legitimate business need to open a second account and all of your accounts are in good standing.
Who Needs Amazon Integration?
Integration with Amazon is necessary for companies that aim to automate e-commerce and logistics systems, improve the quality of their customer service, reduce various costs associated with logistics, order processing, data synchronization, manual input of information into various systems, etc.
Basically, the candidates for integration are medium and large retailers who already have or planning to create an Amazon Seller account, and using business systems such as:
SAP (including SAP S/4HANA, SAP Business One, SAP CRM, SAP ERP, SAP PLM SAP SCM, and SAP SRM)
Microsoft Dynamics 365
Salesforce
JD Edwards
Oracle ERP
Sage
SugarCRM
ServiceMax
Important legacy applications, as well as other ERP / CRM or accounting systems
What is the Most Important Amazon Integration?
To successfully grow an online business on Amazon, a merchant needs to process orders correctly and quickly, which is why Amazon ERP Integration is the most important and frequently requested integration. Amazon ERP integration allows you to get rid of manual order entry or huge loading of daily orders from Amazon Seller accounts to ERP or other accounting systems.
Thanks to our integration platform Magic xpi, you no longer need to manually enter data from your Amazon e-commerce account into the internal accounting system. With Magic xpi, all important information is automatically synchronized:
– New orders
– Inventory (between Amazon & ERP or other channels)
– Delivery updates
– Customer information
– The stock availability
– Real-time tracking
– Prices and much more.
Thus, Magic xpi can support all e-commerce integration requests quickly and reliably.
Benefits of Amazon ERP Integration
Integrating Amazon with an Enterprise Resource Planning (ERP) system can bring numerous benefits to businesses.
Automation of online selling processes
Integration of ERP with an online store on Amazon allows you to synchronize order information, customer data, and automatically update information on warehouse stocks. Thus, the automatic exchange of data between ERP and Amazon seller account makes the business process much faster and more efficient. This allows you to streamline business processes and increase revenue.
Accurate e-commerce data
A great advantage of integrating an online store with ERP is the accuracy of the transmitted data. Whereas when manually entering data into the business system, there can be errors leading to delays or disruptions in the delivery of goods, which negatively affects customer satisfaction.
Faster order processing
The Amazon ERP Integration eliminates manual data entry and reduces errors. With correct and accurate data, the Amazon Seller account owner can dramatically improve the accuracy of the business, which will make e-commerce processes faster and smoother.
Thus, Amazon ERP integration can streamline business processes, optimize inventory management, and improve order fulfillment. By integrating Amazon with an ERP system, businesses can automate data entry and reduce manual errors. This helps in maintaining accurate and up-to-date data across multiple systems, resulting in improved business decision-making. Additionally, businesses can leverage the data insights gained from the integration to optimize their inventory management and ensure timely order fulfillment, resulting in higher customer satisfaction. Overall, Amazon ERP integration can help businesses improve efficiency, reduce costs, and enhance customer experience.
What is EDI2XML Amazon Integration Service?
Beating the extremely high competition in the e-commerce segment is only possible for companies that follow the latest technological trends.
EDI2XML Amazon integration is a fully managed service offered on top of a state-of-the art technology (Magic xpi), where companies can leverage a full automation of their eCommerce process, to optimize their internal business processes and accelerate online business growth. It is a fully managed cloud integration solution with no-on premise software required.
Leverage innovative solutions to seamlessly share order and customer information and improve customer service.
EDI2XML integration to Amazon is a centralized platform as a service, that maps all critical information across different business systems, and provides a complete view of your leads and customers.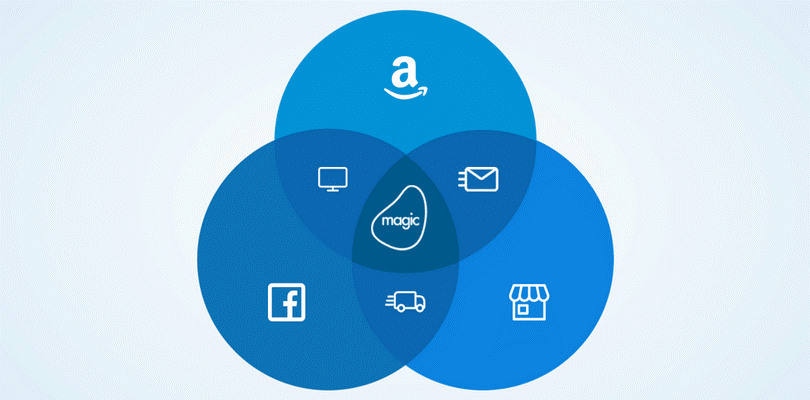 Amazon Seller Central Integration with EDI2XML
No matter what Amazon marketplace you sell on, we can help improve your e-commerce business and complete the Amazon integration project efficiently and quickly with any of these Amazon marketplaces:
– Amazon European Marketplaces. Amazon Europe Marketplaces account: Amazon.de, Amazon.co.uk, Amazon.fr, Amazon.it, Amazon.es, and Amazon.nl
– Amazon North America Marketplaces. North America Unified Account: Amazon.com, Amazon.ca, and Amazon.com.mx
– Amazon Asia-Pacific Marketplaces. (Japan, Australia, Singapore, India)
– Amazon Middle East and North Africa Marketplaces (Middle East Turkey)
Moreover, we provide unlimited support and availability 24/7/365.
Contact us for a free consultation with one of our integration experts.
---