Posted By: Stephanie Khoury
In: Blog, Tags: ANSI ASC x12, CSV, EDI Communication, EDI to XML, EDI translation tool, EDI x12, EDI2XML, EDIFACT, TXT, XML
0 Comments
(Last Updated On: June 10, 2020)
This article went on to describe the beginnings of EDI in the business world and how far we've advanced with technology to simplify these B2B transactions with EDI2XML. 
EDI in the 1970s
This is around the time that the first version of EDI came to be. It started off with the large transportation enterprises looking to replace the way they exchanged documents with their Trading Partners. They felt it was taking up too much of everyone's time with all the manual processing and paperwork required that shipments were even getting delayed. Therefore, to speed up the process, many of these large transportation companies decided to develop standard formats to exchange information between their business partners. This eventually led to the EDI communication process we have today.
EDI today
EDI is simply a standard method of electronically exchanging documents between Business Partners. The most known EDI standards are EDIFACT, which is an international standard used all over the world, ANSI ASC x12, typically used in North America, TRADACOMS, predominant in the UK retail industry, and ODETTE, used in the European automotive industry.
The documents traded all depend on your industry and business needs. We most often deal with Purchase Orders (EDI850), Invoices (EDI810), Advance Shipping Notices (ASNs) (EDI 856)  and Remittance Advice. There are so many other documents currently being traded by large and small businesses all around the world.
Where does EDI2XML come in?
EDI2XML was developed by our team at Namtek Consulting Services to simplify the whole EDI communication process. Most business and IT people, do not know how to read a document in EDI format, which makes it much more difficult to integrated into their management systems. This is why our team decided to develop a translation tool capable of converting any EDI document into an XML format, and vice versa. If required, this tool can also convert EDI format to CSV, for JDE integration for example, or TXT. There is much flexibility with this solution.
Below is a typical EDI flow using EDI2XML Translation Service: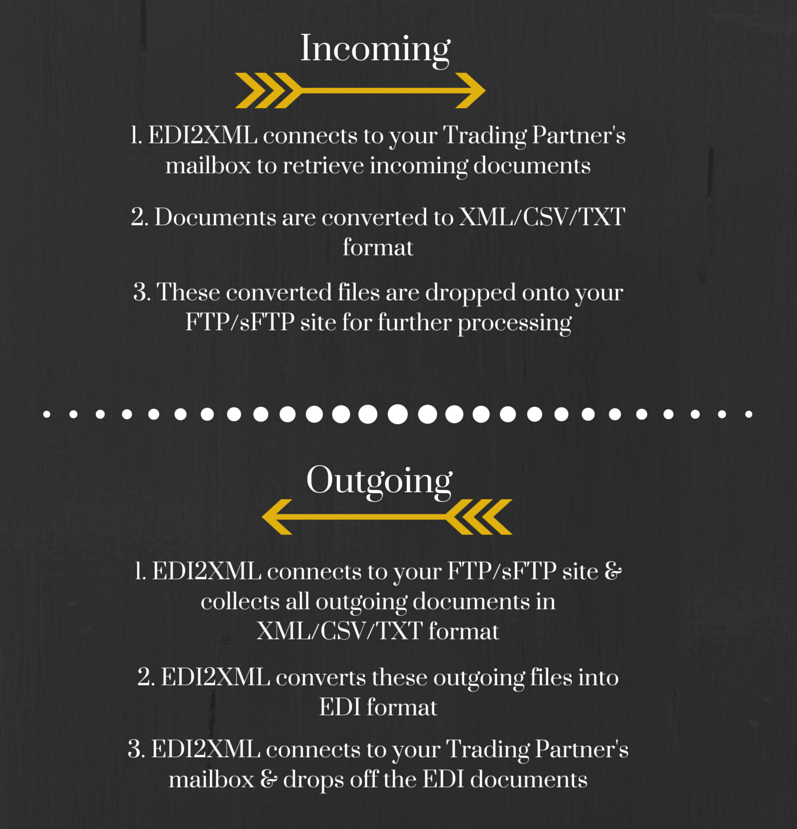 Of course, the newly converted incoming files can also be directly integrated into your database system if that is the preferred method. No matter if you are exchanging EDI x12 or EDIFACT documents, EDI2XML can handle it all.
To read the full article on Namtek Consulting Services, click here.
View our Infographic all about EDI