Posted By: Tatyana Vandich
In: Blog, Tags: API, B2B EDI integration, cloud EDI, EDI, EDI Integration, EDI technology, EDI transactions, EDI Web Service, Electronic Data Interchange, Fully managed EDI, HTTP Web Service
0 Comments
(Last Updated On: December 18, 2019)
This post was updated to reflect current trends and information.
---
Electronic Data Interchange (EDI) and all the services around it are becoming more and more popular, regardless of the industry, for one major reason: EDI transactions are replacing paper documents exchanged between trading partners, and helping companies in their digital transformation projects, for a "greener" planet.
Retail was one of the first industries to fully adopt EDI, and it is still the most active vertical in its usage. EDI is a proven and effective alternative to fax, e-mail, and manually entering or re-entering data such as Invoice, Purchase Order, Inventory and many others…
There are various types of EDI and several approaches to integrate Electronic Data Interchange in a business community. Each EDI provider can offer a different EDI integration methodology, in order to become EDI compliant. We at EDI2XML, offer two options for to integrate EDI into your company, and make your business "EDI compliant", while shortening the integration project:
How to select? What kind of EDI integration solution is a better option for your business?  First, let's understand both options.
Fully managed EDI service
The EDI2XML service offered as "fully managed", includes translation and communication service offering to businesses of all sizes, from different industries.
Our team at EDI2XML, takes care of ALL the aspects of the integration project. With this model, we offer a "Turnkey EDI Solution" where we take on our shoulder all setup, configuration, testing, certification with the EDI partners …
In other words, with this option, we take care of everything: all the steps of the project from A to Z. We can even integrate directly into your ERP or CRM system. We provide certified connectors for leading IT systems such as Salesforce, JD Edwards, SAP, Dynamics CRM, Dynamics AX, and more.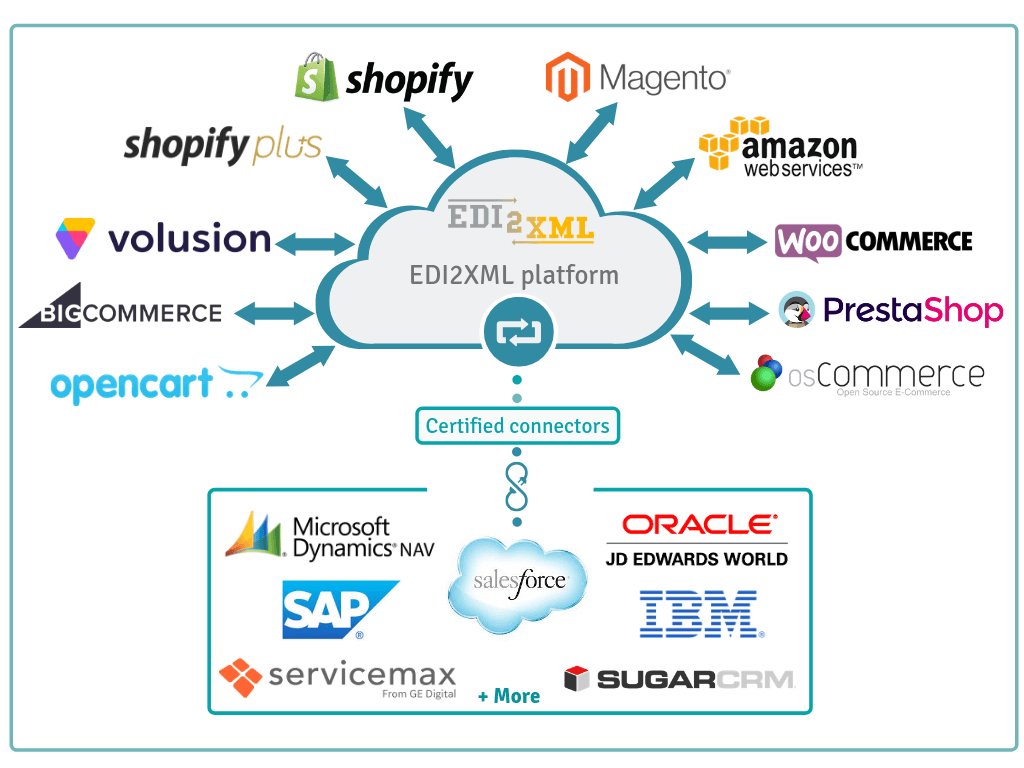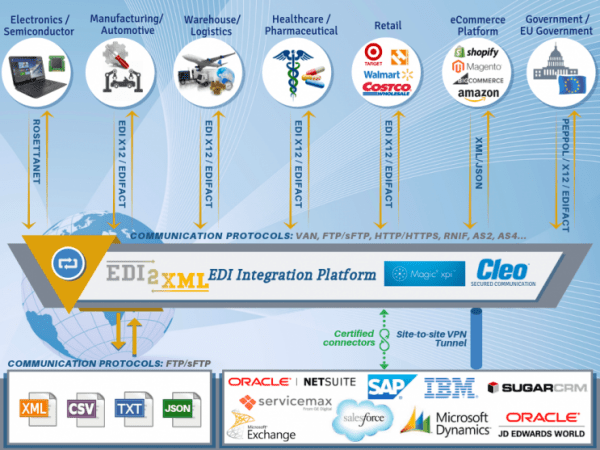 a) Technical Details
A setup phase is mandatory for all new Trading Partners and/or EDI document implementation. This stage includes the project analysis, setup of Trading Partner accounts, configuring Partner specs and platform, defining the transfer file structure, building and setting up all required connectivities and communication protocols. It also includes an end-to-end full cycle data testing and certification.
To learn more about EDI service, download our free introductory guide here
b) Pricing
As for the pricing, it is based on pre-defined monthly service packages, including a pre-defined volume of data processed. All our packages are billed monthly based on the entry level plan (Business Light) at the beginning of each month. Subsequent month billing will include the basic plan fee PLUS the difference between the plan we billed initially (Business light) for previous month, and the plan that we were supposed bill for the previous month based on real volume of data processed for that month.
All this to say, our monthly pricing packages are dynamic, they go up and down based on the volume of data we process and integrate, and our clients are not locked in in any of the packages.
For more information about pricing – fill out a form: EDI2XML Translation Service Pricing Package
HTTP EDI Web Service (REST API)
EDI2XML Web Service, is an HTTP service running over the internet, on EDI2XML own platform that is capable of receiving HTTP requests to translate EDI messages to XML, and XML messages to EDI (based on EDI2XML's proprietary format).
EDI2XML Web Service is much more cost effective, and meant for companies who got their own technical resources to work with REST API (call and consume HTTP Rest Web services)
The principles of the mechanism of EDI2XML Web Service is schematically illustrated in the below diagram.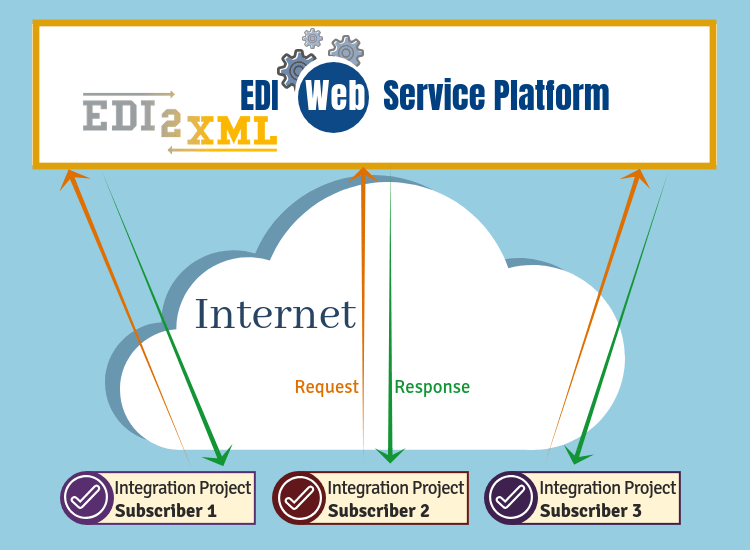 a) Advantages
EDI2XML Web Service is the way to go for the following reasons:
Self-service solution
Low cost
We offer a 15 days free trial, without any commitment.
Get started with less than an hour
There is no contract, no commitment.
Payments are month to month; Cancel anytime with a 30 days' notice.
A very simple and dynamic pricing scheme
Availability and reliability
Based on proven technology in the field for over 18 years now
Outstanding technical support
b) Technical Details
Implementation time: Getting started with EDI2XML Web Service, is very simple and quick. Within less than an hour, you can issue the first Call to the Web Service and see the response. Our HTTP EDI Web service is very clearly documented, and we provide instructions with each subscription.
Quick entry: you can be up and running in less than an hour, and it is proven; we provide everything to your developers to get started, a java client with its source code and instructions on how to work with it.
We offer the schemas(xsd) of the XML format our API expects, and all what you need to do is to format your data according to that format and you will be up and running.
c) Pricing
EDI2XML API service fee to use the HTTP / Web Service calls, has a very simple pricing scheme. The price consists of two elements:
Monthly mailbox fee: a "fixed" monthly fee for the Web Service Mailbox usage on EDI2XML platform. It is a nonrefundable fee.
Data processing fee: a "variable" fee based on the volume of data processed and translated between EDI and XML, during a calendar month. The volume of data processed is computed in both directions:
Click here to request EDI2XML Web Service Price List
d) How to get started with EDI2XML API
To get started with our EDI Web Service three steps you need to follow:
1. You need to provide us the list of documents/transactions you want to be activated under your trial account.
2. We will simply set you up with a 15 days trial account, without any commitment from you. Just let us know when do you want to kick off, and we can take care of setting you up on a trial account.
3. We provide a Java client and its source code. You can get started with less than an hour, this will allow you to try and see the results by your own.
Compare key features of Fully managed EDI service and HTTP EDI Web Service
| | | |
| --- | --- | --- |
| key feature | Fully managed EDI service | HTTP EDI Web Service |
|  Type of EDI solution | Full service | Self service |
|  Contract | Yes | No |
|  Commitment | 24 months | No |
|  Implementation time   (approximately) | 2 weeks | 1 hour |
|  Real-Time Connection | Yes | Yes |
|  Free Trial account | No | 15 days |
|  Data processing fee | Based on the appropriate plan. It works in both directions: when the volume goes up and  when the volume goes down. |   "Variable" fee based on the   volume      of data processed     and translated         between   EDI    and XML, during a         calendar    month. |
|  Need for internal   resources | No | Yes |
|  Need for in-house EDI expertise | No | No |
|  Technical Support | Yes | Yes |
|  Hardware Installation  Required | No | Yes |
|  Software Installation Required | No | No |
| Communication with the trading partner: setup and testing in both directions | Yes | No |
We, at EDI2XML, provide an EDI integration solution for every type of business. Contact us today for a free consultation and we will help you find the most appropriate option for your business.