(Last Updated On: July 16, 2019)

This post was updated to reflect current trends and information.
Purchasing tickets, gifts, clothes, equipment and even groceries can now all be done online. Due to its accessibility and convenience, most of us already buy products online, from anywhere at anytime, using a smartphone or laptop, so long as we are connected to the Internet. Simple user interface, quick actions and results: everything is so easy that it only takes a few minutes. This explains why the number of online shoppers is growing at a tremendous rate, year after year. For example, the number of online shoppers in the United States alone is estimated to be 230.5 million by 2021 as compared to 215.4 million in 2017.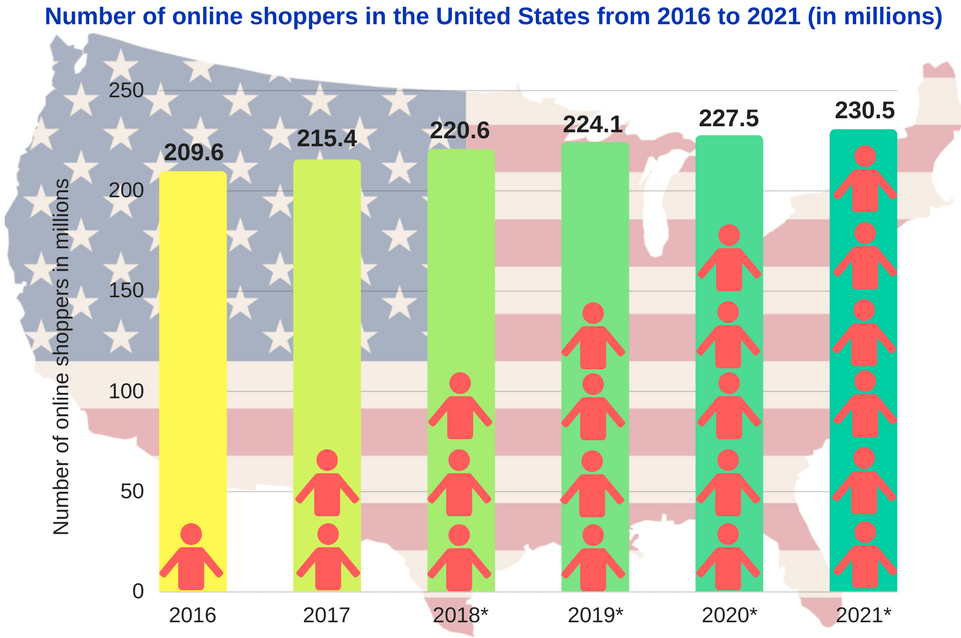 Source: The Statistics Portal "Statista"  
The above graphic displays statistics about online shoppers who browsed products, compared prices or bought merchandise online at least once during the corresponding year.  Notice an increase of online buyers year over year due to the active introduction of Omnichannel retailing.
What is the omnichannel retailing?
Omnichannel is a cross-channel business model that companies use to improve their customer experience. "Omnis" can be translated from Latin as "existing everywhere". In our case, covering all channels of communication with customers: as physical locations, online store, social media, live web chats, mobile applications, and telephone communications. The customer accesses all products and services in the most convenient way for him, while being always visible to the retailer.
Setting up your online store
Opening an online store in today's digital world is NOT difficult; however, running the operations of an online business is of course a little more challenging. Here are some of the undeniable advantages of running an online store:
There are no rental fees
You need fewer employees to operate the store
Companies can overcome geographical limitations
Best of all, it is open 24 hours a day, 365 days a year
Use the best e-commerce practice
In order to not be left out of the e-commerce game, you should give great attention to detail and look for the best practices in operating your e-commerce business. On the Internet, there's a ton of great advice for entrepreneurs who have started their online business already; it is about choosing an e-commerce platform, optimizing the page load speed, creating unique content, promoting the products, and the list goes on…
However, there isn't much information out there that talks about the technical and logistical aspects of running an online store. Critical information that e-business owners should know are things like how to exchange documents electronically between your e-business and trading partners or transport companies. There's also the important e-commerce practice of integrating your systems and electronic exchange of data (or EDI) in order to improve speed, accuracy, quality of information and overall business efficiency.
The role of EDI integration in logistics and e-commerce
The term "logistics" even in the traditional retail sense was not always so clear-cut and far from being obvious. Business logistics can be defined as: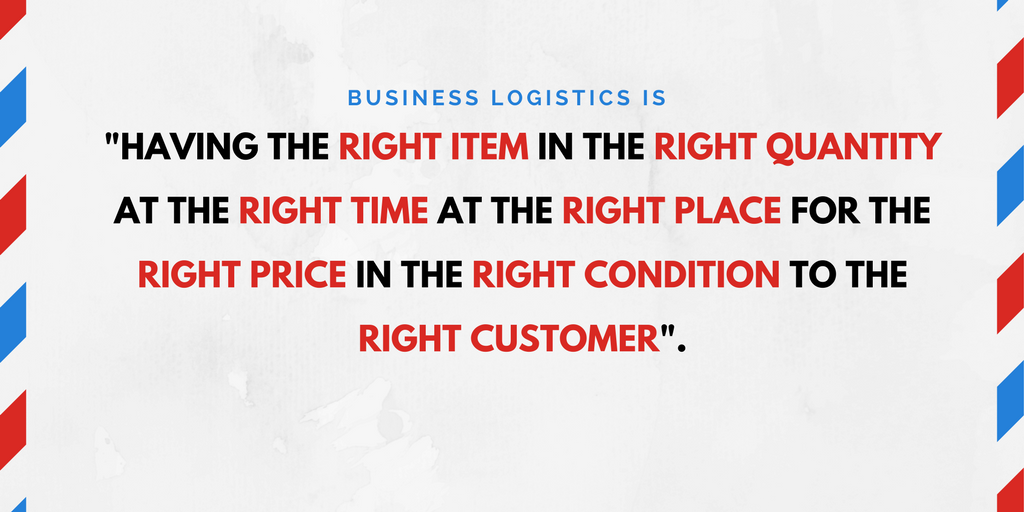 When running an e-commerce business, regardless of which supply chain management methodology you choose (Drop-Ship or other), you will have to face a substantial amount of business related documents that you need to exchange with your trading partners.
Now, let's do a simple calculation: how much time do your employees spend on order entry, shipping advice, invoices, generating labels? What is the error rate? Maybe that's why the rate of returns of online sold products is sky-high. Research about e-commerce product returns shows: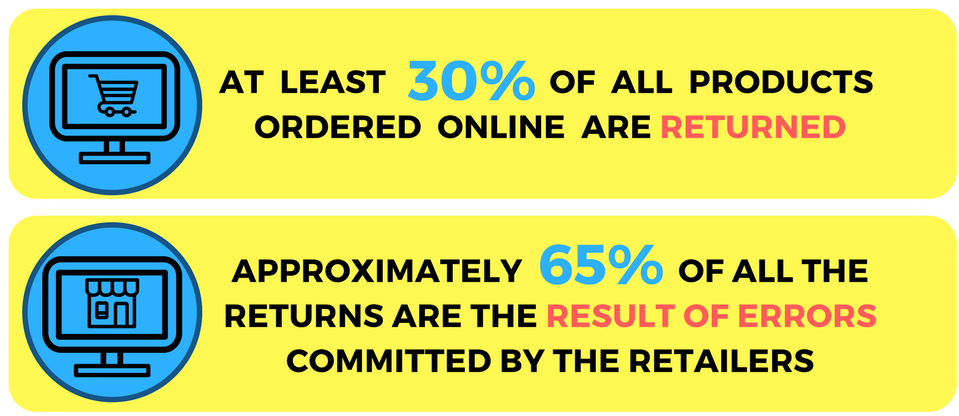 In my opinion, the statistics shown above reflecting e-commerce product returns looks frightening… Is it possible to reduce the above percentages?  Can your online business avoid those errors?
EDI integration improves the quality of the data by at least 30% to 40 % reduction in the transactions containing errors, by eliminating unreadable writing or typing errors, the losses of faxes/mail, transmission, and re-manipulation of errors.
Think and manage your online business better
The positive effects of EDI Integration will be measurable across all of the following services: commerce, production, logistics, and finance.
In sales:
Sales cycle and quality of the relationship with your customers are improved and processing times reduced (reliability and efficiency of exchanging orders, shipping advice etc. …)
In production:
Reduced production costs
Better management of your stocks
Short production times
In logistics:
Reduced processing times for shipments
Elimination of anomalies or errors
Elimination of paper documents
Strong improvement in the quality of information
In finance:
Reduced billing times
Reduction of disputes
In conclusion, moving forward with an EDI integration project gives a business the access to an undeniable competitive advantage; companies are able to reduce the costs of its products and services, improve business processes and meet the demand of customers and suppliers. What's better than that?
Keep learning about EDI integration and the MANY benefits it has for your online business by visiting our website EDI2XML.com or contacting us directly today!