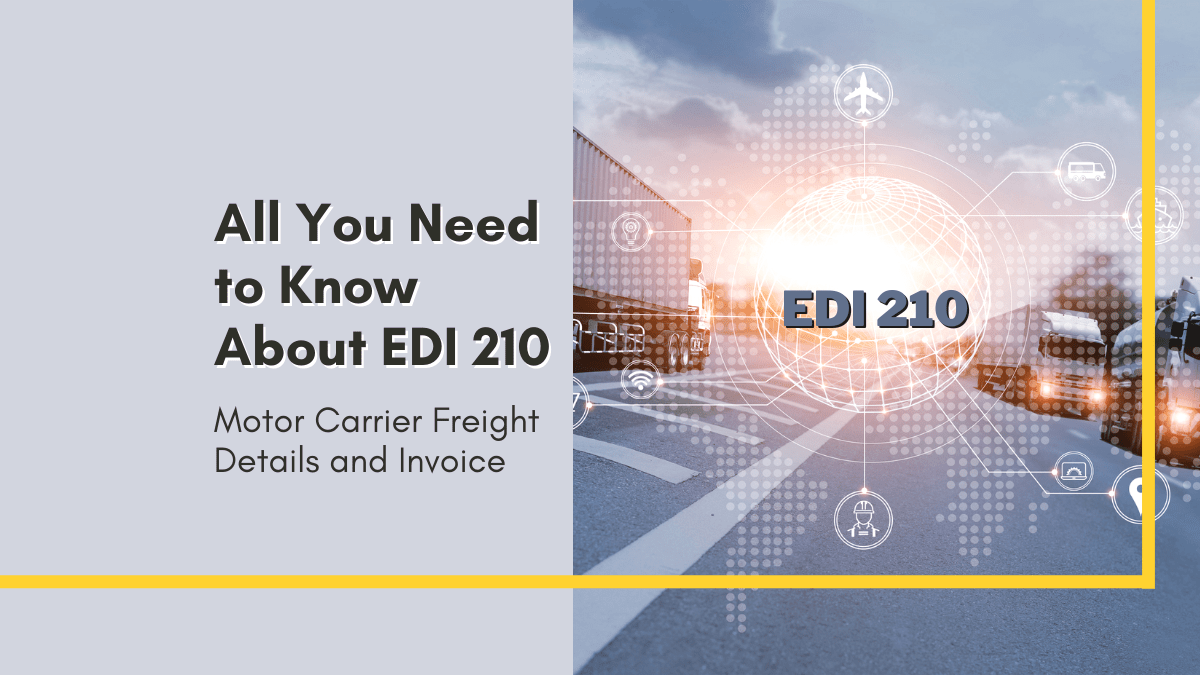 (Last Updated On: March 30, 2022)
---
EDI Transaction Set X12 210 Motor Carrier Freight Details and Invoice is an EDI document used in logistics by motor carrier companies. EDI 210 is usually sent by the carrier to the shipper (it could be a 3PL warehouse, distributor center, manufacturer, etc.) in order to provide detailed information about the fees for transportation services.
The formal name of this X12 transaction set is X12 210 Motor Carrier Freight Details and Invoice.
EDI 210 transaction set, is maintained by a subcommittee "X12I – Transportation" operating within X12's Accredited Standards Committee.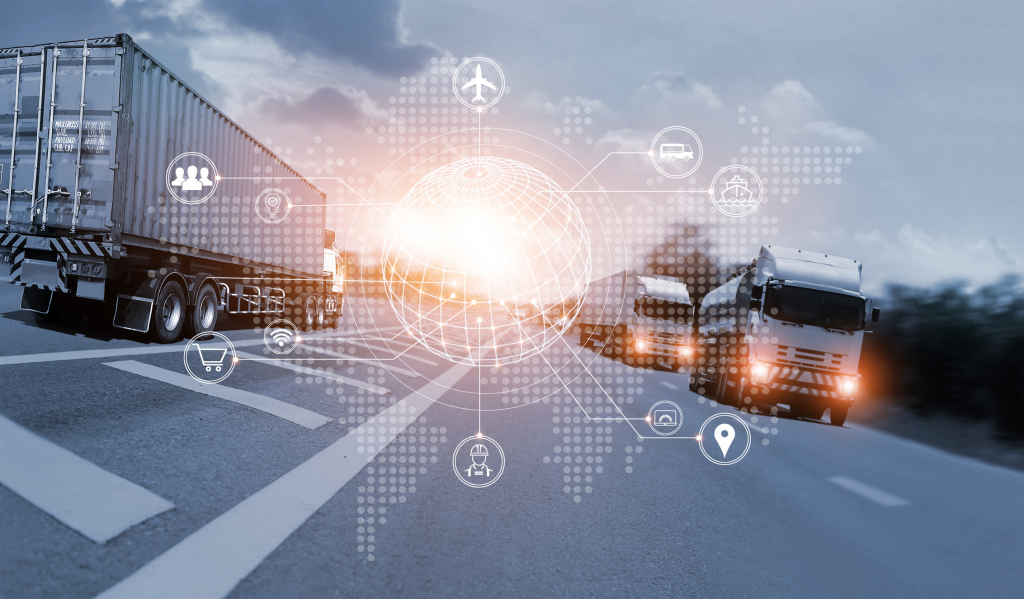 EDI 210 can be used by motor carriers in one of the following two scenarios:
1. as an invoice to request payment, or
2. to provide information about the cost of motor freight transportation.
Typically, the carrier sends the EDI 210 transaction, after the shipment has been delivered to the destination. The EDI 210 document, will indicate the full amount required for a shipment, as well as the terms of payment. The shipper can use the EDI 997 (functional acknowledgment) transaction, to confirm receipt of an EDI 210 transaction.
Exchange of business documents via EDI is much more efficient and secure than using paper documents or emails. Electronic data interchange helps business partners to improve communication and optimize processes. By exchanging EDI business documents, companies have the following benefits:
– Eliminate the costs associated with the use of paper documents.
– Minimize the labor cost performing daily redundant data entry operations.
– Save time and increase of employee's productivity.
– Reduce errors due to manual data entry.
– For motor carrier companies, using EDI 210 can speed up the billing process, allowing them to get paid much faster by their business partners.
– For shippers, EDI 210 provides a clear and accurate view of costs, helping to effectively plan a company's finances.
The EDI Motor Carrier Freight Details and Invoice Transaction Set contains motor carrier expense details, billing information, and other information that a standard invoice should contain:
– Number and date of the invoice.
– The name and address of the consignee.
– Name and address of the shipper.
– Detailed information about the cargo:
name,
quantity,
type of cargo,
weight and size
– Delivery methods and route information.
– The total amounts to be paid.
ANSI ASC X12 Version 4010 of a 210 Motor Carrier Freight Details and Invoice, can have the following structure:
ISA – Interchange Control Header
GS – Functional Group Header
ST – Transaction Set Header
B3 – Beginning Segment for Carriers Invoice
C3 – Currency
M7 – Seal Numbers
S5 – Stop Off Details
N9 – Reference Number
G62 – Date / Time
R3 – Route Information
H3 – Special Handling Instructions
N1 – Name
N3 – Address Information
N4 – Geographic Location
N7 – Equipment Details
LX – Assigned Number
POD – Proof of Delivery
L5 – Description, Marks, and Numbers
L0 – Line Item – Quantity and Weight
L1 – Rate and Charges
L7 – Tariff Reference
K1 – Remarks
L3 – Total Weight and Charges
SE – Transaction Set Trailer
GE – Functional Group Trailer
IEA Interchange Control Trailer
What is the difference between EDI 210 and EDI 214? Both of these documents are actively used by logistics and transportation companies, but they have completely two different purposes.
As stated previously in this post, the EDI 210 document, in most cases acts as an invoice for trucking companies. So often, trucking companies call EDI X12 210 Motor Carrier Freight Details and Invoice simply as EDI 210 Invoice.
EDI 214 is a Transportation Carrier Shipment Status Message used by the carrier to notify the shipper and consignee about the status of their cargo.
---
---
To fully automate data exchange with their business partners, many companies integrate EDI 210 and other important EDI transactions into their internal business systems. Our EDI2XML integration platform provides secure and efficient EDI integration with most ERP, CRM, business, and accounting applications from leading vendors such as SAP, Oracle JD Edwards, Salesforce, Microsoft Dynamics, etc.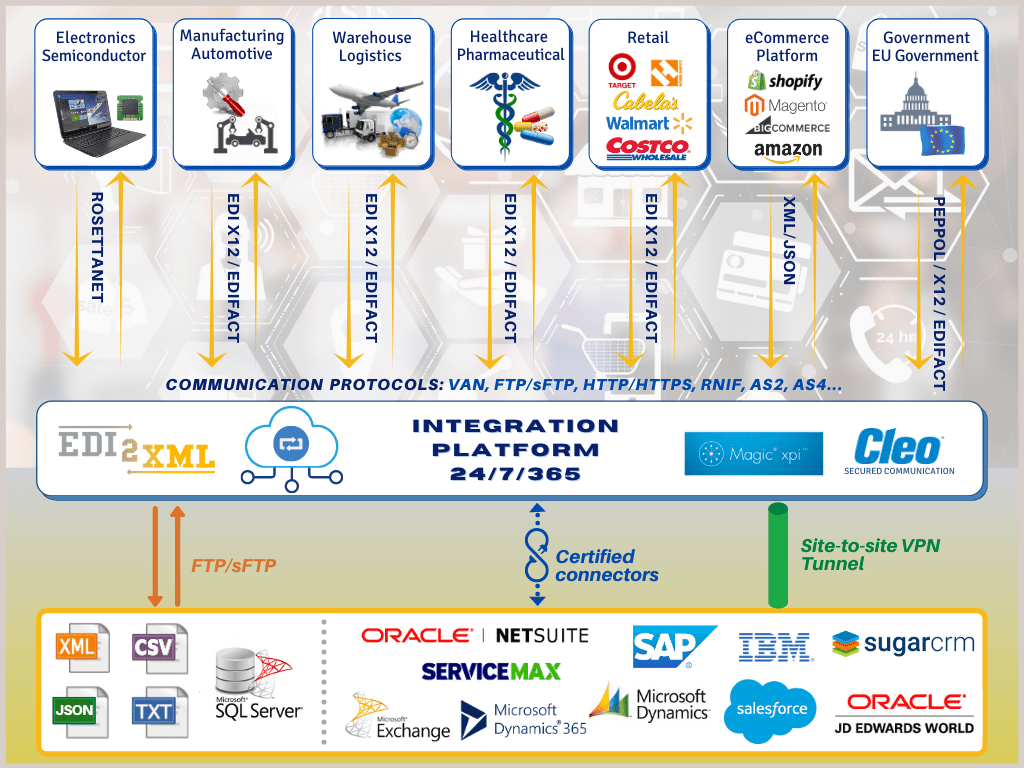 Our robust and powerful EDI integration platform support different EDI standard (X12, EDIFACT, RosettaNet, etc.) and various communication protocols (e.g. AS2, VAN, FTP/SFTP, HTTP/HTTPS), thus we can connect business partners anywhere they are in the world, regardless of their industries.
Connecting business partners through EDI for over 21 years, our company has accumulated vast experience to carry out your EDI integration project quickly and efficiently.
Contact us for your first free consultation.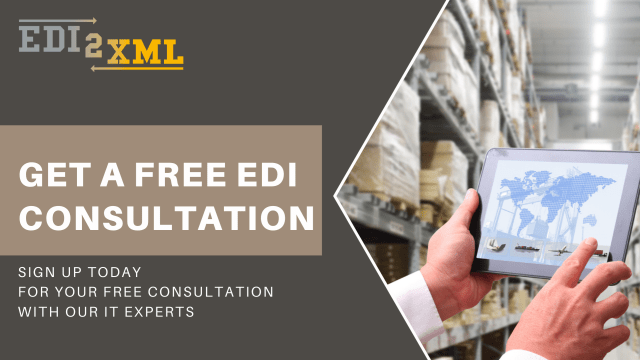 ---
You may also be interested in reading about:
– Electronic Data Interchange (EDI) in the Supply Chain
– How EDI can speed the receiving of goods in a warehouse
– EDI for Third-Party Logistics providers (3PL)
– DELFOR, DELJIT, DESADV – key EDI messages in supply chain management for manufacturing