(Last Updated On: May 9, 2023)
---
Transportation and logistics companies rely heavily on EDI to exchange information with their trading partners, including shippers, carriers, and freight forwarders. EDI provides a standardized, automated method of exchanging documents, reducing the need for manual processing and improving the speed and accuracy of information exchange.
By adopting EDI, transportation companies have been able to streamline their processes and significantly reduce the time and costs associated with manual tasks. In this article, we will take a closer look at EDI 214 – Transportation Carrier Shipment Status Message and its importance in the transportation industry.
What is EDI 214?
EDI 214 is an electronic document used in the context of EDI (Electronic Data Interchange) to provide detailed shipment status information. The formal name of this EDI document is ANSI X12 214 Transportation Carrier Shipment Status Message Transaction Set.
EDI 214 Definition
EDI 214 is a delivery status message sent from the transportation company to the shipper, as well as the consignee and their agents, as an update on the status of delivery. The document provides real-time updates on the status of a shipment, from pickup to delivery, and includes details such as the carrier name, equipment type, pickup and delivery dates and times, and any exceptions or delays that may have occurred during transit.
Where Is EDI 214 Transportation Carrier Shipment Status Message Used?
EDI 214 is used in transportation, logistics, supply chain, and international trade. As mentioned above, transport companies use EDI 214 to inform shippers and consignees about the status of their cargo.
Here are some examples of the largest transportation companies in the world using EDI. It can be based on either the X12 or EDIFACT standard (which is typical for European companies).
Some examples of the biggest Less-Than-Truckload (LTL) Carriers in North America using EDI 214 document:
Why is EDI 214 Important In The Transportation Industry?
In the transportation industry, timely and accurate information about the status of a shipment is crucial. EDI 214 allows carriers and their trading partners to exchange information quickly and efficiently, enabling them to make informed decisions about the shipment and take appropriate action if necessary.
What Does EDI 214 Include?
EDI 214 transaction set may include various information related to shipments made by transport service providers. Thus, as a status document, EDI 214 provides information about the physical location of cargo at any given time and can contain information on more than twenty "events".
However, depending on the business model of the company or its specifics, business partners determine the exact list of necessary information to be transmitted in an EDI 214 document. Typically, the Transportation Carrier Shipment Status Message contains the following information:
Sent from – name and address
Place of delivery – address or coordinates
Shippers Purchase Order Number
Estimated Time of Arrival
Route Information
Delivery confirmation – location, signature
Information about the status of the shipment
Description of shipment – weight, packaging, and quantity.
Depending on the requirements of the company, EDI 214 can be produced 4 to 6 times per day up to a once per week; all depends on the business use case.
How Does EDI 214 Work?
EDI 214 works by using a standard format for exchanging information between trading partners. The document is transmitted electronically between the carrier and their trading partner, using a secure and reliable EDI network.
The information contained in the EDI 214 document is structured using a set of data elements and segments, which are defined by the ANSI X12 standard. The data elements and segments provide a standardized way to communicate information about the shipment, ensuring that all parties understand the information being shared.
EDI 214 Business Workflow
Usually, the EDI 214 Transportation Carrier Shipment Status Message can be partnered with additional EDI transactions, such as EDI 204 Load Tender and EDI 990 – Response to a Load Tender.
Below is one of the possible workflows involving EDI 214.
To accept the EDI 204 Load Tender transportation company must send to shipper EDI 990 – Response to a Load Tender. Then, the carrier starts feeding the shipper with EDI 214 Transportation Carrier Shipment Status Message.
EDI 214 contains information about pickup and delivery times. Moreover, EDI 214 transaction set can be sent multiple times. First EDI 214 to indicate loading time; next 214 transaction set, can be sent to indicate delivered time.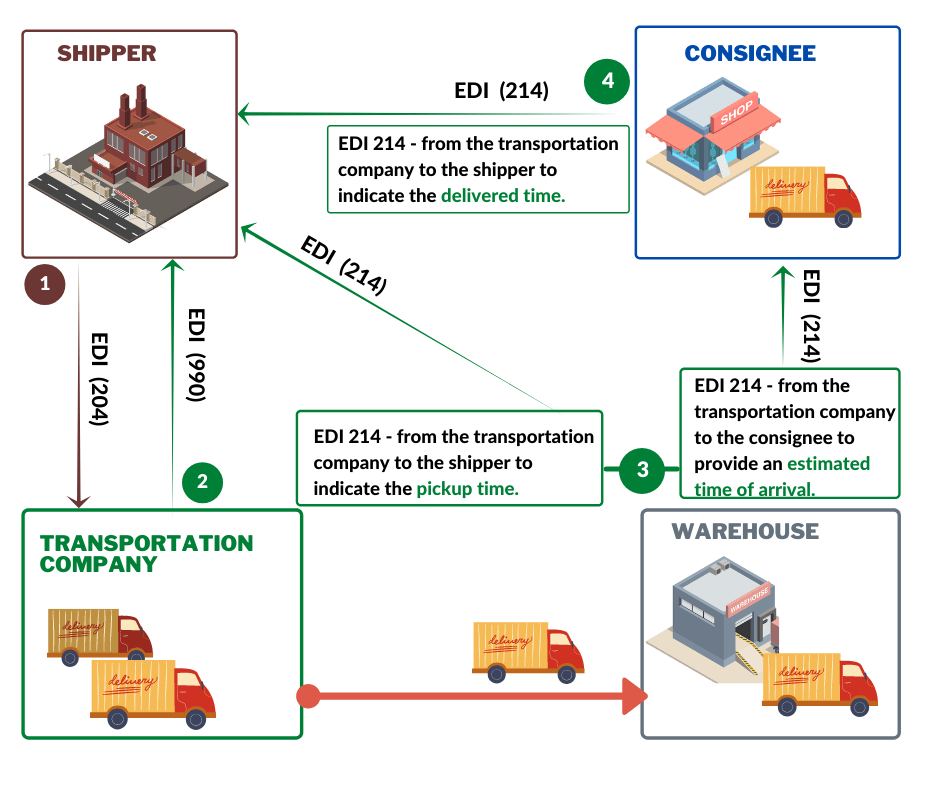 Benefits of Using EDI 214
For retailers, EDI 214 transaction serves as an important source of information when scheduling and/or adjusting the schedule of goods receipt, as well as for the efficient allocation of resources and personnel.
Besides, by receiving status updates via EDI 214 messages from carriers, retailers do not need to make verification calls to clarify delivery times.
Some of the key benefits of using EDI 214 in the transportation industry include:
Improved visibility: EDI 214 provides real-time updates on the status of a shipment, enabling carriers and their trading partners to track the shipment's progress from pickup to delivery. This visibility allows them to proactively identify and resolve any issues that may arise during transit.
Increased efficiency: By automating the process of sharing shipment status information, EDI 214 eliminates the need for manual data entry and reduces the risk of errors. This leads to increased efficiency and reduces the time and costs associated with manual tasks.
Better collaboration: EDI 214 enables carriers and their trading partners to collaborate more effectively by sharing information in real-time. This collaboration improves communication and helps to ensure that all parties are on the same page when it comes to the shipment.
Many shippers and consignees use the Transportation Carrier Shipment Status Message as a tool to control the carrier's transit time. To determine if the carrier has met the time schedules for transportation, they note the date and time of shipment and receipt of the goods.
EDI 214 Status Code List
The EDI 214 Transportation Carrier Shipment Status Message uses a standardized set of status codes to indicate the status of a shipment. Here are some commonly used status codes:
AF: ACTUAL PICKUP. The shipment has been picked up
AG: ESTIMATED DELIVERY. An estimated delivery date is calculated at the time the shipment is picked up.
AB: APPOINTMENT DATE. A delivery appointment has been set up.
AI: RECONSIGNED. The consignee has changed.
A3: RETURNED TO SHIPPER. The final status for this type of shipment.
AJ: TENDERED FOR DELIVERY. The tendered date for the shipment.
CA: CANCELED. The shipment has been canceled/voided for one of numerous reasons.
D1: DELIVERED.
A7: REFUSED BY CONSIGNEE.
K1: PROCESSING THROUGH CUSTOMS.
R1: RECEIVED FROM PRIOR CARRIER.
X9: DELIVERY APPOINTMENT REQUESTED
Note that this is not an exhaustive list and some EDI trading partners may use additional status codes or custom codes. It's important to verify the specific status codes used by your trading partners to ensure accurate communication and avoid any delays or errors in your transportation operations.
EDI For The Transportation Services Sector and Logistics
Nowadays, almost every company, whether it is a shipper, consignee or carrier, exchange information through EDI.
Below is a list of the most popular EDI transactions in the transportation industry.
204 Motor Carrier Load Tender
990 Response to a Load Tender
210 Motor Carrier Freight Details and Invoice
211 Motor Carrier Bill of Lading
212 Motor Carrier Delivery Trailer Manifest
214 Transportation Carrier Shipment Status Message
215 Motor Carrier Pickup Manifest
216 Motor Carrier Shipment Pickup Notification
820 Payment Order/Remittance Advice
997 Functional Acknowledgment
Find the Perfect EDI Service For Your Business
Do you need to use the EDI 214 transaction with your business partner? Therefore, you are looking for an efficient fully managed, EDI service. You are at the right place. We can help you.
We offer our clients fully managed EDI Services including various communication protocols such as:
Connect EDI With Your ERP, CRM, TMS, or e-Commerce
To ensure complete automation of your logistic processes, we integrate your EDI process with almost any business system in the market such as:
Microsoft Dynamics
Salesforce
Sage
Oracle NetSuite
JD Edwards
SAP
We also integrate EDI with e-commerce.
Start Exchanging EDI In An Hour or Less Using our EDI Web Service
EDI web service is the easiest and fastest way to get started with EDI.
To connect to our EDI REST web service and be able to exchange EDI documents, all you need to do is have access to the Internet and know your API Token and password for access.
In less than an hour, you can start exchanging EDI messages. EDI2XML REST web service provides great benefits for your business. You do not need to have experience with EDI. There is no need to sign a contract, pay as you go by very simple and dynamic pricing.
---
---
Regardless of whether you are a large freight forwarding company with numerous trading partners or a small transport company, you can exchange EDI 214 or any other EDI messages using our EDI REST service.
You can rely on our over 20 years of experience with EDI and integration projects, whether it is consulting, technical support, or project planning: we provide your company with everything you need.
Contact us for more information and a free consultation.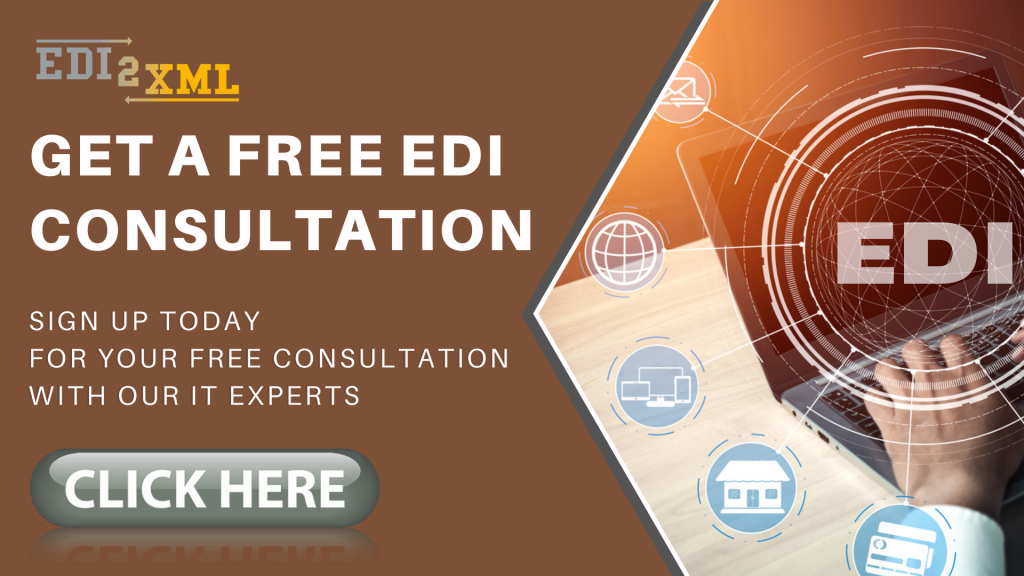 ---
You may also be interested in reading about: