Posted By: Tatyana Vandich
In: Blog, EDI, EDI2XML, Tags: B2B, B2B EDI integration, Bed Bath & Beyond EDI, Bed Bath and Beyond EDI Compliance, EDI, EDI as a Service, EDI Service Providers for Small Business, EDI with Bed Bath & Beyond, EDI2XML Translation Service
0 Comments
(Last Updated On: September 26, 2019)

This post was updated to reflect current trends and information.

Company Overview of Bed Bath & Beyond Inc.
Founded in 1971 Bed Bath & Beyond Inc.  is an American-owned omnichannel retailer offering a vast selection of high-quality domestic's merchandise and home furnishings.
Bed Bath & Beyond (BBB) has an e-commerce platform consisting of various websites and applications. The Company also operates established retail stores in the United States, Puerto Rico, Canada, and Mexico. As of 2017, the company has a total of 1 546 stores and 65 000 employees.
Bed Bath & Beyond purchases its merchandise from 10 800 suppliers. The 85% of such purchases provide from small and medium-size enterprise. The company's 10 largest suppliers accounting for only 15% of purchases.
BBB faces growing competition from online stores, such as Amazon. To strengthen its presence in Internet, Company makes acquisitions such as Decorist an online interior design platform. One Kings Lane Inc. – online home goods retailer which offers an extensive collection of designers. PersonalizationMall.com – online seller of personalized gifts. Of a Kind, an e-commerce website which offers limited edition items from emerging fashion and home designers.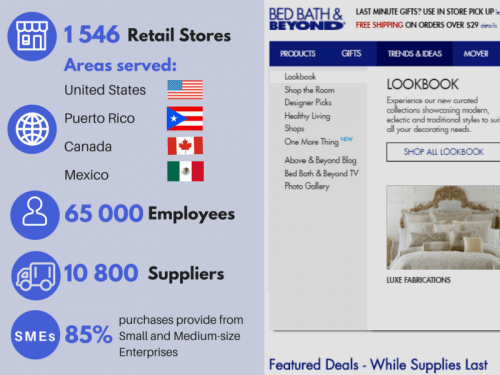 Bed Bath & Beyond EDI
To be among the Bed Bath & Beyond suppliers, you must be able to send and receive documents electronically in accordance with x12 EDI standards.
As a supplier of Bed Bath & Beyond your company may be required to exchange the following EDI business document types:
810         Invoice
850         Purchase Order message (Customer triggered)
852         Product Activity
855         Purchase Order Acknowledgment
856         ASN (Advance Ship Notice)
860         PO Change (Customer triggered)
865        PO Change (Supplier triggered)
At any time, we can add additional Bed Bath and Beyond compliant EDI transactions at a customer's request.
Check up our EDI Document Library
EDI Service Providers for Small Business
EDI2XML offers EDI integration with Bed Bath and Beyond to allow businesses of all sizes to become Bed Bath and Beyond EDI compliant.
Even small companies can trade with Bed Bath & Beyond using our EDI2XML Translation Service. Our services cover all:
EDI Mapping
Partner Configuration
Translation Processing
Standards Maintenance
XML Translation
EDI communication with Trading Partners, etc.
We also work with your team to easily integrate your EDI process with all major ERP systems.
Read: Convert EDI to XML: The Winning SaaS Option
Best EDI for Small Business
With our EDI converter, B2B companies have the ability to exchange essential business documents via EDI without hiring in-house EDI/IT personnel. Our EDI2XML Translation Service is the best EDI solution for B2B. This service is great for any business looking to implement EDI at an affordable price, without any headaches.
If you're looking to complete an EDI project, Contact us today for your  FREE consultation to evaluate your EDI project.