Posted By: Tatyana Vandich
In: Blog, Tags: CRM, CRM software, CRM system, e-commerce, enterprise service bus, ERP, integrating CRM and ERP, Integration, integration platform, Magic xpi, Oracle, SAP, service oriented architecture, soa architecture, soa integration
0 Comments
(Last Updated On: September 11, 2023)
This post was updated to reflect current trends and information.
---
More and more, companies are seeking to optimize their workflows as much as possible, by using different IT solutions.
The fact is, more software applications that are "heterogenous" are deployed on a company premises. It is common to see for example a CRM (Customer Relationship Management) software, being leveraged along with different business applications and systems such as ERP (Enterprise resource planning), EDI (Electronic Data Interchange), e-commerce store and others. Companies need to optimize and improve their processes by integrating as much as possible all different apps and software solutions being used to run their day to day operations.
Before we start talking about integration, let's have a quick overview of CRM.
What is CRM?
If you refer to Wikipedia, you find the following definition: "Customer-relationship management (CRM) is an approach to manage a company's interaction with current and potential customers. It uses data analysis about customers' history to improve business relationships with customers, specifically focusing on customer retention and ultimately driving sales growth".
In other words, a CRM is a tool for managing clients and their related information, as well as a way to speed up and streamline sales processes.
CRM market
According to Statista, Global CRM software revenue increased from $ 13.93 billion in 2010 to $ 39.5 billion in 2017. The market was driven by strong software as a service (SaaS) growth.
"In 2018, CRM software revenue will continue to take the lead of all software markets and be the fastest growing software market with a growth rate of 16 percent," said Julian Poulter, research director at Gartner.
There are a lot of companies in the CRM system market, but the four largest vendors of CRM system offerings are:
Salesforce: is a leader of the CRM software market. American developer of the CRM system, provided only the SaaS model. Technical experts mark the company as the "main players in the cloud computing market" along with Oracle, SAP, Google, Microsoft, Amazon.com
---
---
SAP: is a European multinational software corporation that develops enterprise software to manage business operations and customer relations. SAP provide new generation of CRM tools and customer engagement solutions. SAP Hybrid solutions are more than traditional CRM software, they provide in-memory technology and Big Data insights to help companies drive contextual, personalized customer engagement in real time – across any channel or line of business.
---
---
Oracle: is an American multinational computer technology corporation. Oracle CRM is one of the leading products in the CRM market. It has a robust and intuitive interface and a variety of product lines and deployment models:
a) Oracle CRM On-Premises: is a traditional on-premises deployment where the customer needs to buy or lease his own hardware, operating systems and databases, and install a packaged Oracle CRM system on it.
b) CRM On Demand and Oracle Sales Cloud are cloud CRM solutions which are accessible over the internet and paid for by a monthly subscription fee.
---
---
Microsoft is an American multinational technology company. One of the leading companies in the CRM space with its Microsoft Dynamics 365. Dynamics 365 platform offers companies an exceptional set of productivity tools across sales, marketing, and customer service. Microsoft Dynamics 365, is unique of its kind in the CRM marketplace, and leading the way in innovation, usability and user experience.
---
---
What does CRM integration mean?
Today, it is very common to see enterprises running different types of systems, to run their business. It is common for example to see a company adopting JD Edwards Enterprise one as an ERP, while at the same time, having their sales and marketing department, leveraging Salesforce.com for as their CRM software.
Natively, both branded software systems (JDE and Salesforce), do NOT connect together "out-of-the-box". However, both of these solutions, offer an API or web service to read/write data.
Integration of a CRM with an ERP helps automate the processes, reduce human errors and maintain a better quality of data for the enterprise.
Additionally, integrating a CRM system to another ERP software, aims at creating an omnichannel (unified) system to collect data about the client from all sources: call center, store, online store, website and social networks. The company must have complete information about its client — this will make the most advantageous offers and provide the best support. Analysis of CRM systems shows that the effect of integrating CRM with other corporate applications can significantly increase company productivity.
Thanks to the integration, data into a CRM system can be visible and transferred to other applications.
Here are some use cases of integration of a CRM
Integration of CRM with the e-commerce site(s): This is very common integration, that allows to synchronize data from an eCommerce site into a CRM system. On the e-commerce site your customers can register and make orders and at the same time, customer contacts are sent from the e-commerce site to your CRM systems. Next, with these contacts, the work can be done already in the CRM system. Namely, the initial call to the customer, the appointment, the second call and so on.
Integration of CRM with accounting and finance: Most often this method is used to upload customer data to accounting programs. Back from the accounting program can be taken in CRM information about payments and receivables from customers.
Large companies that use ERP systems can integrate applications even more closely. For example, orders are initially sent from the e-commerce site to CRM and processed by sales managers, then, automatically transferred to the ERP system. In ERP, further work will be done with the customer's order (production, logistics, etc.). The status of the order will be returned to CRM.
Benefits of CRM Integration
Integration of CRM with other business applications and systems used by the business will allow:
spend less time on search and exchange of information between departments;
reduce personnel costs;
reduce the risk of losing contacts and other important information about the clients;
see full statistics of company activity and configure the end-to-end analytics;
migrate workflows into a single interface;
reduce paperwork to the minimum;
configure automatic data exchange with partners and contractors — for example, a delivery service, bookkeeping outsourcing company or coalition loyalty programs;
Overcoming Integration Challenges with Magic xpi
Using the Magic xpi Integration platform, you can easily integrate enterprise-level solutions due to Magic xpi code-free, business process automation, and data synchronization solutions.
Magic xpi has pre-build, optimized and certified adaptors for most branded CRM systems such as Microsoft Dynamics, Salesforce, SugarCRM, and other.
Magic xpi extends the capability and usage of your CRM system. You can achieve simply and intuitively integration with your company's business applications, like IBM i, JD Edwards, SAP, Lotus Notes, accounting, ERP, supply chain management, HRMS, logistics, and many more.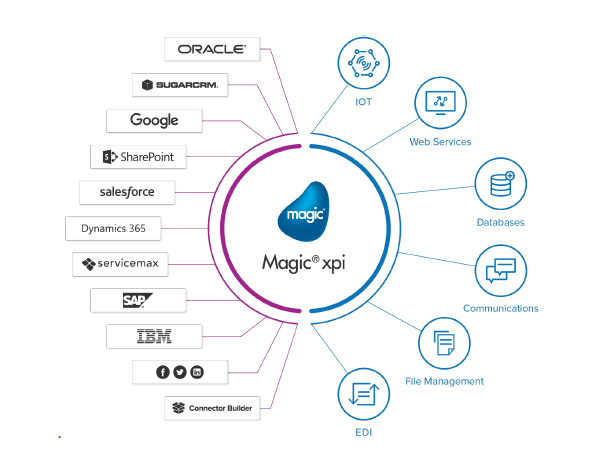 Magic xpi, using its visual and intuitive design tools, can simplify and unify the interfaces of your CRM, as well as other business systems in use, while not using any custom coding.
For learn more about Magic xpi integration platform, watch this video
Magic xpi Integration Project Lifecycle
Analysis: Analyze your business processes.
Design: Design and build your business processes and integration flows in the Magic xpi Studio.
Connection: Quickly connect all your existing enterprise applications using Magic xpi built-in certified connectors and adaptors.
Testing: Test the integration flows on simulated business processes, without Interrupting real business activity.
Optimization: Before full deployment, perform risk-free optimization of your business processes and integration flows.
Deployment: Deploy your new integration solution using the Magic xpi server.
Monitoring: Monitor the integration of your business processes.
---
Click here to download our free White Paper on Magic xpi Integration Platform
---
The main key to the success – is digital transformation.
Change the usual workflow and introduce new technologies is not easy. Often employees are unwilling and fear of change. However, as you may already know, or have learned from this article, there are many arguments in favor of automation and integration of your business application and systems.
Moreover, if you do not engage new technologies, this does not mean that your competitors are not doing so: competition is ahead. Do not lose customers, develop faster with new technologies. Contact us today for free IT consultation.