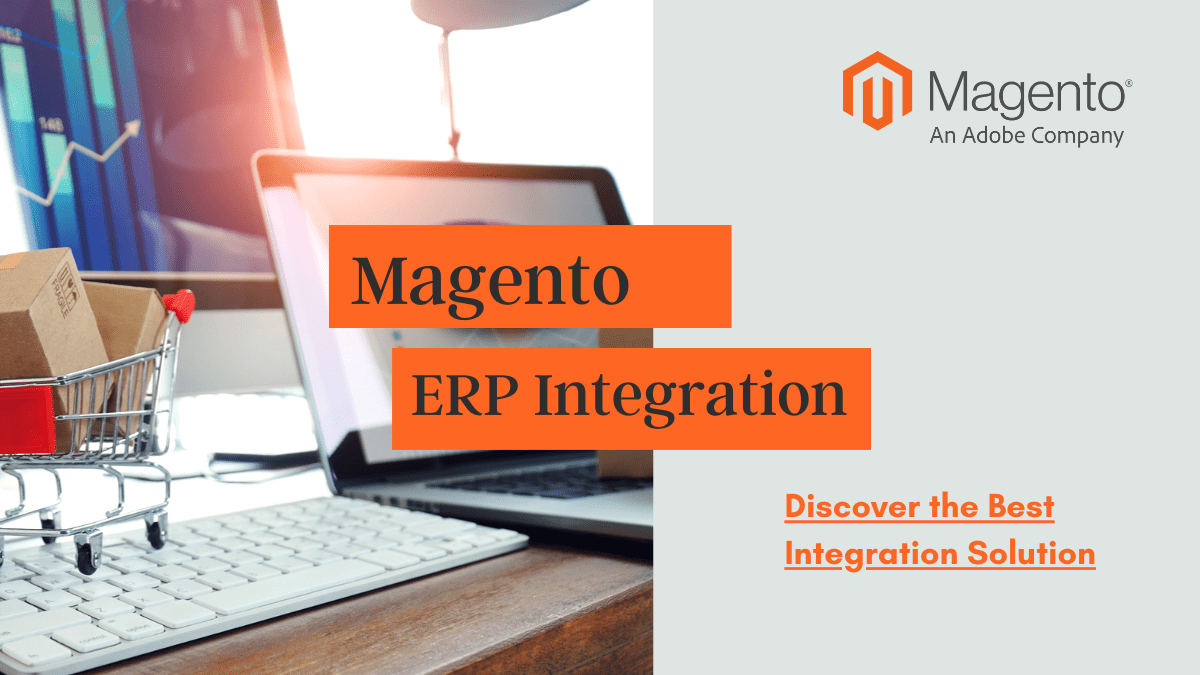 (Last Updated On: February 13, 2023)
---
The integration of e-commerce with third-party systems such as ERP, CRM, accounting systems, or EDI is a very hot topic and challenging for many companies. This is due to the urgent need to better manage online sales in response to the COVID-19 pandemic, many businesses find their online store is becoming the only source of revenue.
In our EDI2XML Blog, we have covered a lot of e-commerce integration topics like Shopify, BigCommerce, or Amazon integration. Thus, if you are interested in learning more about these integration topics, you can read the following articles:
– What Is Amazon Integration & How Does It Work?
– Must-Have BigCommerce Integrations
– Secrets and rules of Shopify integration with your ERP or CRM
Today, let us look at one of the most popular e-commerce platforms – Magento. We will explore the most important points of Magento integration, which have a significant impact on the performance and efficiency of your Magento store.
What is Magento?
Magento is one of the most popular e-commerce platforms in the world.
One of the reasons of Magento's popularity is its flexibility and extensibility. You can integrate almost any functionality into your online store – which is why so many companies choose Magento.
There are two distinct platforms of Magenta:
Magento Open Source
Magento Open Source (formerly under the name Community Edition) is an open-source e-commerce platform, that is, available to anyone for free. Magento Open Source provides basic e-commerce capabilities that enables to create an online store from scratch. However, for fully functionality, Magento Commerce is recommended.
It should be remembered that if you choose to use Magento Open Source, this does not mean that you can get your online store free of charge. You need to consider hosting costs, themes, domain name, SSL certificate, fees for processing payments, etc. Besides, to create and customize a full-fledged online store, you will need a developer with PHP experience because this task can be a little daunting for beginners without much programming knowledge.
Magento Commerce
Magento Commerce (platform as a service) includes cloud-optimized architecture and hosting, unlimited customization, third-party integrations, and AI-powered merchandising and analytics. Over 250,000 merchants worldwide use Magento Commerce.
Magento is a very reliable and powerful e-commerce platform used by many popular online stores with high traffic. This means that Magento fit for large companies. However, if you plan to expand your online store (increase the catalog product, etc.) we would recommend starting with Magento as it is a performance-proven platform for supporting large stores. Magento is worth installing in the first place instead of switching to Magento at a later stage. Even if there are data transfer tools, such as the Magento Mass Importer (MAGMI) for migration of Shopify to Magento this process will not be easy and demands time and effort.
Nevertheless, it should be kept in mind that Magento is aimed at three levels of companies: small businesses, medium-sized and large businesses.
Magento History

The development of Magento started in 2007 by Varien Inc. and was officially launched on March 31, 2008.
In 2011, eBay, which already owns 49% of Magento, acquired the remaining 51%. In May 2018, Magento Inc. became the property of Adobe Inc. Now, Magento is a leading e-commerce platform with around 30% market share according to Wikipedia.
Magento is currently working on implementing a voice-based commerce feature. The Magento team is working with Amazon and Google to make the service available through Amazon Alexa.
Why you need Magento ERP Integration?
Companies that have linked their ERP system with their Magento online store, succeed by optimizing work processes, which positively affects the shopping experience, reduces order-processing time, and minimizes errors.
ERP stands for Enterprise Resource Planning. It is a business process management software that can be on-premises or cloud-based. ERP system helps to manage an enterprise in the following main areas:
– Financial Management
– Manufacturing Management (product data management)
– Distribution Management with three key areas of distribution management: sales order, inventory, and warehouse management.
Synchronizing data between Magento store and ERP system, eliminates the need for sales managers to enter sales order information manually into a business software system. This significantly increases the speed of order execution and eliminates possible errors, as well as improves the quality of customer service.
Due to Magento ERP integration, you can achieve efficient Inventory management that allows you to have complete control over your Magento online store. With automatic inventory management, you will always be aware of the goods received and sold, and most importantly, your customers will not place orders for goods that are out of stock. You do not have to bear the costs and waste time to contact the client to offer him a substituted item or to issue a refund.
Magic xpi the best Integration platform for Magento e-commerce
One of the most important decisions when integrating your Magento online store with your business systems is choosing a reliable and scalable integration platform.
Magento Commerce is API ready; the API capability, gives the flexibility to connect integration platforms such as Magic xpi and other systems.
Magic xpi integration platform is a leading solution for integration, enterprise-grade data synchronization, and complete automation of business processes.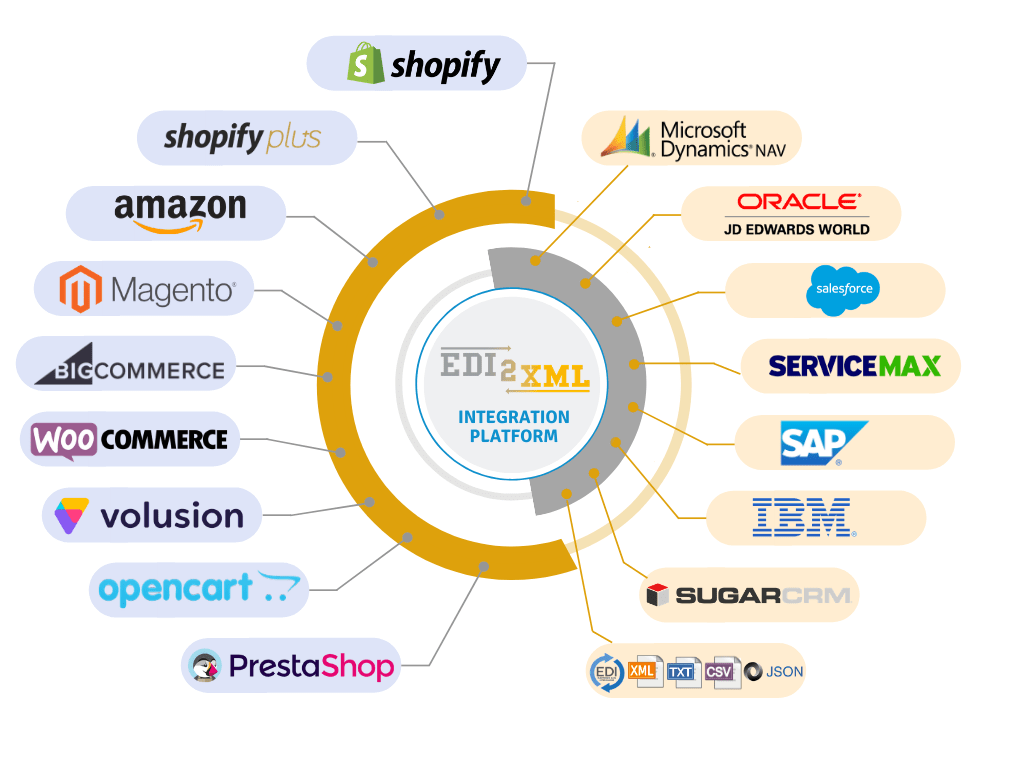 Magic xpi leverages code-free technologies to streamline business processes and manage communications between on-premises and/or cloud-based enterprise systems, automatically integrating data from multiple sources on a many-to-one basis.
Magic xpi implements comprehensive ready-made certified and optimized connectors and adapters, to synchronize leading ERP, CRM, Finance, and other busyness systems with e-commerce platforms and marketplaces.
Thus, besides Magento ERP/CRM integration, you can expand your sales channels and synchronize your Magento store with marketplaces like Amazon or eBay.
Magento Inventory Management
Inventory management is one of the important points in e-commerce integration with ERP. Up-to-date information about product availability is a key issue in online sales. This is an especially pertinent issue for companies with a multi-channel approach, i.e. offline (physical store) and online sales, such as sales via Magento online store, Amazon, eBay, or social media like Facebook or Instagram.
With Magic xpi integration platform, you can update your inventory in near real-time, giving you a unique competitive edge.
The common Magento business process integration
As mentioned above, Magic xpi is a proven integration platform that seamlessly connects the front office and back office IT systems for two-way communication. The most common examples of business process integration between Magento and business systems are:
Integration of e-commerce catalog data with ERP
E-commerce data integration with (PLM) Product Lifecycle Management
Inventory data pushed to Magento online store
Bi-directional Pricing updates – ERP with e-commerce
Real time inventory checks
Order information from e-commerce to ERP
Real-time credit card processing
Bi-directional address book updates
Shipment confirmation
Package tracking
Delivery notifications
Inventory notification/alarm for e-commerce managers
Call center integration
CRM integration
Choose the right integration provider and technology
Aside from using cutting edge and well-established technology, the most important part of any integration project is having the right people to integrate quickly and efficiently without any disruption and within your budget.
Our team has implemented integration projects of different types and complexities. Many years of integration experience, as well as the use of new technologies, allow us to carry out projects quickly and efficiently allowing clients to see quickly the benefits of e-commerce integration with business systems.
Contact us for a free consultation with one of our integration experts.